Flutterby

Site Admin
Posts: 47401
Joined: Sat May 19, 2012 12:28 pm
Country: South Africa
Location: Gauteng, South Africa
---
Amoli

Posts: 6548
Joined: Fri Jun 01, 2012 4:30 am
Country: South Africa
Location: Kempton Park
White-backed Vulture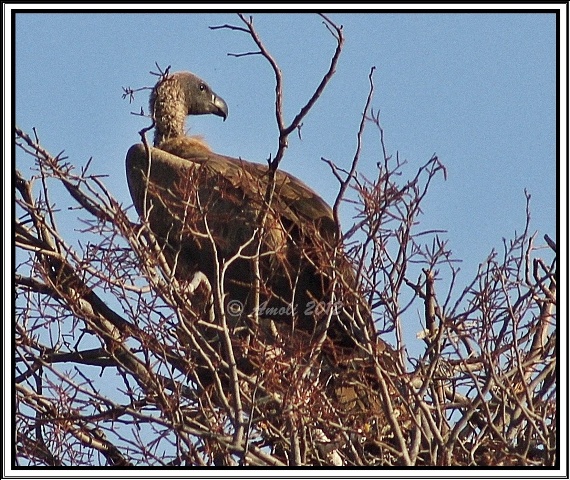 White-headed vulture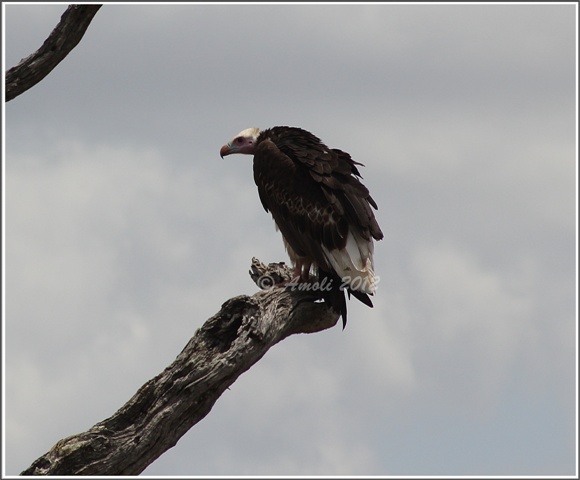 Hooded Vulture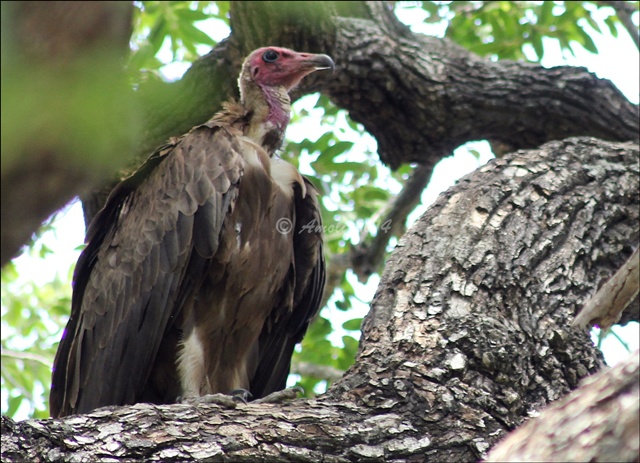 Pretoriuskop
Satara
Shingwedzi
20-30 Dec 2014
---
Duke
Movements of 9 tracked white backed vultures


---
nan

Posts: 34984
Joined: Thu May 31, 2012 9:41 pm
Country: Switzerland
Location: Central Europe
this one from the Kgalagadi has a big teritory

very interesting

we got the same map, for Max the White Stork, when she was still alive (she dies 2-3 years ago

)
Kgalagadi lover… for ever
---
Lisbeth

Global Moderator
Posts: 59581
Joined: Sat May 19, 2012 12:31 pm
Country: Switzerland
Location: Lugano
Surprising!

"Education is the most powerful weapon which you can use to change the world." Nelson Mandela
The desire for equality must never exceed the demands of knowledge
---
Lisbeth

Global Moderator
Posts: 59581
Joined: Sat May 19, 2012 12:31 pm
Country: Switzerland
Location: Lugano
Technology solves disappearance mystery of one of Africa's famous birds
The magnificent Bearded Vulture is most in danger from humans © Sonja Kruger
The mystery of the gradual disappearance of the Bearded Vulture, one of Africa's most famous birds, has been solved using the technology of satellite tracking.
Once widespread throughout much of Southern Africa, the Bearded Vulture is now critically endangered, with a decline in nesting sites of nearly 50 per cent since the 1960s.
The remaining population is now restricted to the Drakensberg mountains in Lesotho and South Africa. But even in these isolated mountains they continue to decline.
Satellite trackers attached to 18 Bearded Vultures have confirmed conservationists' worst fears: humans are largely to blame with collisions with power lines and poisoning being the two major vulture hazards that killed half of the birds in the satellite tracking survey.
These are key findings contained in two new research projects published this month. The studies paint the most detailed picture to date of the challenges facing the Bearded Vulture, also known as the 'bone breaker' due to its habit of dropping bones from a height to feed from the marrow inside.
The first paper, published in the international ornithological journal The Condor by scientists from EKZN Wildlife and the Percy FitzPatrick Institute at the University of Cape Town, found that human-related factors were the common denominator in differences between abandoned and occupied Bearded Vulture territories.
Lead author on the study Dr Sonja Krueger says: "We explored where the biggest difference lay between abandoned and occupied territories and found that human related factors such as human settlement density and powerlines were consistently different between these sites."
Power line density and human settlement density were more than twice as high within abandoned vulture territories compared to occupied territories, the study found.
Results also suggested that food abundance may influence the bird's overall distribution, and that supplementary vulture feeding schemes may be beneficial.
By contrast climate change was not found to be a major contributing factor in nest abandonment.
"Though not definitive, the results strongly suggest that we humans are our own worst enemies when it comes to conserving one of Africa's iconic birds," Krueger says.
The study recommended a new approach to vulture conservation management: "Based on the identified threats and mechanisms of abandonment, we recommend that conservation management focus on actions that will limit increased human densities and associated developments and influence the attitudes of people living within the territories of (vulture) breeding pairs," the study concluded.
"We recommend that mitigation of existing power lines, stricter scrutiny of development proposals, and proactive engagement with developers to influence the placement of structures is essential within the home range of a territorial pair."
The study's findings are backed up by a second paper published in open access journal PLOS ONE, which relied on data from satellite trackers attached to 18 Bearded Vultures.
The trackers not only showed the exact location of the tagged birds every hour, they also provided critical information on movement patterns and mortality.
Tagging enabled dead birds to be quickly recovered and their cause of death determined.
The study confirmed that, in addition to power lines, poisoning was considered the main threat to vultures across Africa and was contributing to the so-called "African Vulture Crisis"– a large decline of many vulture species across the continent.
The tracking data also provided new information about the birds' ranging behaviour. It revealed that non-breeding birds traveled significantly further than breeding birds and were therefore more vulnerable to human impact.
Some young non-breeding birds patroled an area the size of Denmark. The average adult bird had a home range of about 286 sq km, but the range was much smaller for breeding adults at just 95 sq km.
Dr Arjun Amar from UCT said detailed knowledge about Bearded Vulture home ranges could be hugely beneficial to vulture conservation: "We knew the species was likely to have large home ranges, but our results show just how far these birds travel – and therefore how exposed they are. The more they travel, the more they risk colliding with power lines or falling prey to poisoning."
"Education is the most powerful weapon which you can use to change the world." Nelson Mandela
The desire for equality must never exceed the demands of knowledge
---
Lisbeth

Global Moderator
Posts: 59581
Joined: Sat May 19, 2012 12:31 pm
Country: Switzerland
Location: Lugano
Saving vultures across the world
26 February 2015
The sight of more than 200 vultures circling hundreds of metres up in the sky is a picture not many get to experience anymore. But not very long ago vultures flew freely in abundance.
As recently as the 1980s, the Oriental white-backed vulture was considered one of the most prominent bird species in the world, with numbers almost on a par with what one would expect for the common pigeon. In India, Pakistan and Nepal, vulture populations soared to over 10 million. Culturally, cattle in these areas are regarded as sacred and are left to die only from natural causes. The abundance of food in the form of cattle carcasses was one of the main reasons why the South Asian vulture population was growing exponentially.
Over the years, however, researchers began noticing a decline in the number of vultures, with the population dropping from over 10 million to fewer than 10 000 in a 10-year period. The reasons for this extraordinary drop were at first unknown. A series of investigations into possible causes led to the discovery that non-steroid anti-inflammatory drugs (NSAIDs) present in the meat of cattle carcasses were responsible. To relieve aged cattle from any physical pain, cattle owners were treating them with the NSAID diclofenac, commonly known in South Africa as V o l t a r e n. The contaminated meat consumed by the vultures was causing renal failure and subsequent death. This secondary exposure to diclofenac was proving enough to kill vultures, resulting in their massive decline to an alarming level.
With the threat of extinction too close for comfort, conservationists realised something had to be done urgently. The steps that followed to save the species were not without obstacles. Because vultures had always been plentiful, there was no captive breeding programme in place. Vultures were not even found in local zoos. Testing birds to better understand the reasons behind the toxicity of diclofenac was therefore not possible. Furthermore, diclofenac had to be removed from the market, but with the sanctity of cattle far outweighing the perceived status of vultures, this was no easy task. Nevertheless, after much deliberation, authorities agreed that diclofenac could be removed from the system if a suitable alternative could be found.
It was after these inhibiting factors presented themselves that the Faculty of Veterinary Science of the University of Pretoria (UP) became involved. Considering that the African white-backed vulture (Gyps africanus) is very similar to its South Asian cousin, the Asian white-backed vulture (Gyps bengalensis), UP concluded that South Africa's local vultures would also be susceptible to certain NSAIDs. As part of an international team committed to saving the South Asian species, UP, in partnership with an NPO that runs a vulture conservation programme headed by Kerri Wolter, and the Royal Society for the Protection of Birds (RSPB), had the testing facilities as well as captive vultures available to do the necessary tests.
Prof Vinny Naidoo, director of UP's Biomedical Research Centre (UPBRC) and specialist veterinary pharmacologist with the South African Veterinary Council (SAVC), has led the way to find suitable NSAID alternatives that would be safe for vultures. For the past few years, Naidoo has been conducting a range of tests on the effects of alternative drugs, continuously supplying information to international governmental authorities. His research is funded mainly by the RSPB. A series of initial tests are conducted in the Faculty's laboratories, first ensuring that drugs are safe in lab conditions before testing them on live birds. Once this has been determined, testing takes place at the Vulture Conservation Programme (VulPro) where captive birds are selected and given meat laced with alternative drugs. In a final test, the vulture is then dosed directly to see if and how it is affected.
Naidoo's successful identification of suitable NSAID alternatives such as meloxicam induced the governments of India, Nepal and Pakistan to change their policies and prohibit the use of diclofenac in veterinary medicine. Diclofenac was also no longer allowed to be manufactured in or imported into their countries.
Naidoo has remained actively involved in finding suitable alternatives of NSAIDs. His most recent discovery is the highly toxic effects ketoprofen has on vultures. This has led to the Bangladesh government starting the process to have ketoprofen phased out for veterinary use. His research has had a significant effect not only on the preservation of a bird that was rapidly plummeting into extinction in southern Asia, but has also resulted in the South African government issuing a moratorium on veterinary diclofenac. While diclofenac has never been registered in South Africa, Naidoo's results have prompted the country to take the necessary preventative measures. His findings also formed part of a paper that highlighted the dangers of veterinary medicines to the environment, published in the world-renowned journal Science at the end of last year.
For the first time since 2002, the South Asian vulture population is recovering, Naidoo says. While it will never return to millions, populations are at least no longer decreasing. Naidoo credits the rise of populations to the removal of these dangerous NSAIDs. His quest continues as part of an international team lobbying for the banning of diclofenac and other harmful NSAIDs in countries where vultures occur and these drugs are registered, such as Spain.
While vultures have long been unfairly regarded as being ugly and dirty, what people often fail to realise is their fundamental role in a thriving ecosystem. Without vultures, animal carcasses will go uneaten and be left to rot in the sun, constituting a breeding ground for pests and infectious diseases such as anthrax and posing a great threat to human health. The importance of an abundance of vultures therefore goes far beyond the picturesque sighting of over 200 vultures circling above.
- Author Louise de Bruin
"Education is the most powerful weapon which you can use to change the world." Nelson Mandela
The desire for equality must never exceed the demands of knowledge
---
Alf

Committee Member
Posts: 12442
Joined: Wed Nov 26, 2014 12:40 pm
Country: south africa
Location: centurion
Is it just me but whenever we pass Satara heading north we see vultures sitting in the veld about 100m in on your left side. Is that maybe a vulture program or something happening?
Next trip to the bush??

Let me think......................
---
Flutterby

Site Admin
Posts: 47401
Joined: Sat May 19, 2012 12:28 pm
Country: South Africa
Location: Gauteng, South Africa
We also always see them there Alf.

---
Lisbeth

Global Moderator
Posts: 59581
Joined: Sat May 19, 2012 12:31 pm
Country: Switzerland
Location: Lugano
Critically Endangered Vultures
Hooded Vulture (Necrosyrtes monachus)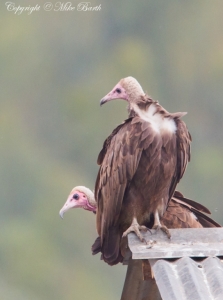 This species is classified as Critically Endangered as there is evidence that it is probably experiencing a very rapid decline owing to hunting, persecution and indiscriminate poisoning, as well as habitat loss and degradation. The species is often associated with human settlements, but is also found in open grassland, forest edge, wooded savanna, desert and along coasts.
Rüppell's Vulture Gyps rueppelli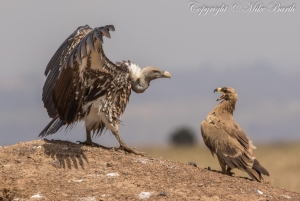 Gyps rueppelli occurs throughout the Sahel region of Africa from Senegal, Gambia and Mali in the west to Sudan, South Sudan and Ethiopia in the east. Also south through the savanna regions of East Africa in Kenya, Tanzania and Mozambique. This species has declined severely in parts of its range and overall it is suspected to have undergone a very rapid decline owing to habitat loss and conversion to agro-pastoral systems, declines in wild ungulate populations, hunting for trade, persecution, collision and poisoning.
White-backed Vulture (Gyps africanus)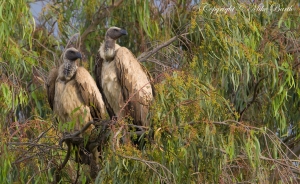 This species has declined severely in parts of its range and overall it is suspected to have undergone a very rapid decline owing to habitat loss and conversion to agro-pastoral systems, declines in wild ungulate populations, hunting for trade, persecution, collisions and poisoning. These declines are likely to continue into the future. For this reason it has been uplisted to Critically Endangered. Primarily a lowland species of open wooded savanna, particularly areas of Acacia. It requires tall trees for nesting. A gregarious species congregating at carcasses, in thermals and at roost sites. It nests in loose colonies.
White-headed Vulture Trigonoceps occipitalis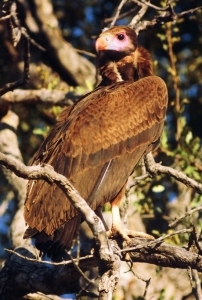 Trigonoceps occipitalis has an extremely large range in sub-Saharan Africa (from Senegal, Gambia and Guinea-Bissau disjunctly east to Eritrea, Ethiopia and Somalia, and south to easternmost South Africa and Swaziland), where it is uncommon to locally common, but generally widespread outside forested regions (Harrison et al. 1997). It has declined rapidly in parts of West Africa since the early 1940s (P. Hall in litt. 1999, J. M. Thiollay in litt. 2006, 2012), is declining in East Africa (Virani et al. 2011) and in southern Africa is now largely confined to protected areas.
Indian Vulture Gyps indicus (CR)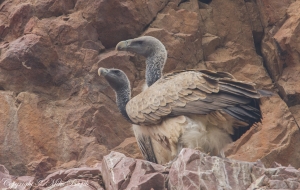 This species is classified as Critically Endangered because it has suffered an extremely rapid population decline as a result of mortality from feeding on carcasses of animals treated with the veterinary drug diclofenac. Survey results indicate that declines throughout the Indian Subcontinent probably began in the 1990s and were extremely rapid, resulting in an overall population decline of greater than 97% over a 10-15 year period.
"Education is the most powerful weapon which you can use to change the world." Nelson Mandela
The desire for equality must never exceed the demands of knowledge
---