Snoring Puddle Frog, Natal Dwarf Puddle Frog
Phrynobatrachus natalensis
(Snorkmodderpadda)
Family: Petropeditidae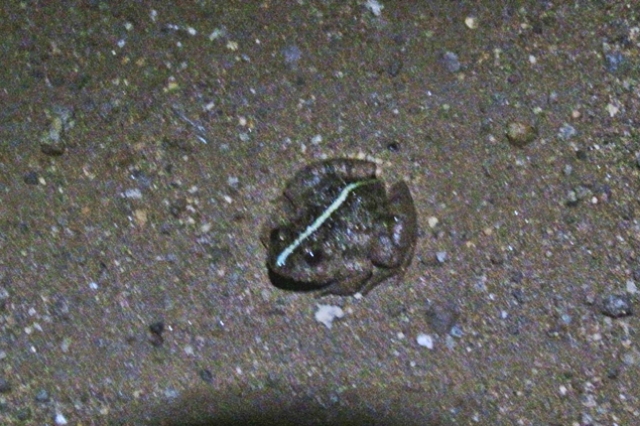 © Flutterby
Kruger National Park, Lower Sabie
Description
Phrynobatrachus natalensis
is a medium to large sized puddle frog (SVL < 40 mm) with variable dorsal coloration and patterns, but most often brown with a light vertebral stripe. Above often mottled with several wart-like elevations. Belly whitish. Horizontal pupils. Males have a vocal sac folded into creases on either side of the jaws. The tympanum is visible and larger than ½ the diameter of the eye. Toes are webbed for almost half their length. Finger tips lack disks or distinct swelling.
Distribution
This species ranges very widely in the savannah zone of Africa, from Senegal and Gambia, east to Ethiopia and Eritrea, south to Angola, northeastern Namibia, northern Botswana, Eastern Cape Province, Mpumalanga, Limpopo and North West Province of South Africa and Lesotho.
Taxonomic Notes
The variation in clutch size, tadpole morphology, size of the adult frog and period of activity, suggests that this taxon almost certainly consists of a number of cryptic species (Rödel 2000).
Habitat
Phrynobatrachus natalensis
is typically associated with herbaceous vegetation along the margins of shallow marshes, lakes, rivers, streams and pools, both permanent and temporary. It inhabits a variety of vegetation types in the savanna and grassland biomes where summer rainfall is >500 mm, although some populations along the western edge of the species' range are found in drier areas. The polymorphic colour pattern may be a means of protection against predators, and specific patterns have been correlated with particular habitats.
Breeding takes place in shallow to fairly deep water in temporary pans and pools, vleis, dams and even small, slow-flowing streams. Breeding sites usually have vegetation or other types of cover along their banks. It is tolerant of human disturbance and is often found near human habitation.
Diet
The Natal dwarf puddle frog feeds on a variety of invertebrates including beetles, termites, bugs, flies, cockroaches, grasshoppers, butterflies and spiders.
Reproduction
Breeding begins in spring after the first rains and continues to late summer. Males usually call from concealed sites and may be heard throughout the day and night in wet weather. Aggressive encounters between males are commonplace. Mating pairs swim while depositing the small eggs in a single-layered plate that floats at the surface. The eggs hatch about four days later. The tadpoles take about four to five weeks to develop to metamorphosis.
Call
A rapidly repeated nasal snoring once or twice per second.
Links:
Vincent Carruthers: Frogs and Frogging in Southern Africa