August 26 Skukuza
This was our last day at Skukuza and by now we were ready for a change of camp. We also booked the Selati restaurant as a treat for supper, but after supper nobody was sure about the treat part, but I will save that for the complaints forum.
Morning Drive: H4-1/H12/H1-2/ Tshokwane and back
The morning sunrise in Kruger is always a special time of the day for me, but probably not the rest of the family, as I refuse to drive in Kruger with my window closed and it can be a little fresh in the mornings in August. Looking around the car this morning one would think that we were in the North Pole not Kruger.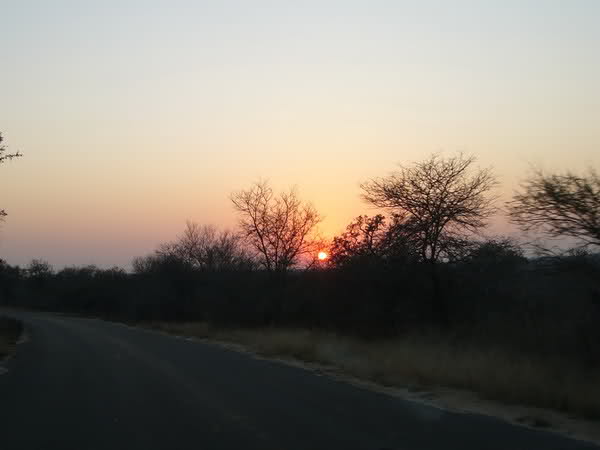 A few km further on the H4-1 a large elephant herd started crossing the river , so we decided to wait and see if they would come up to the H4-1, which they started to do a few minutes later. As luck would have it, much to Chantal's horror, they decided to cross the road right in front of us, as you can see in the photo below taken by my brother.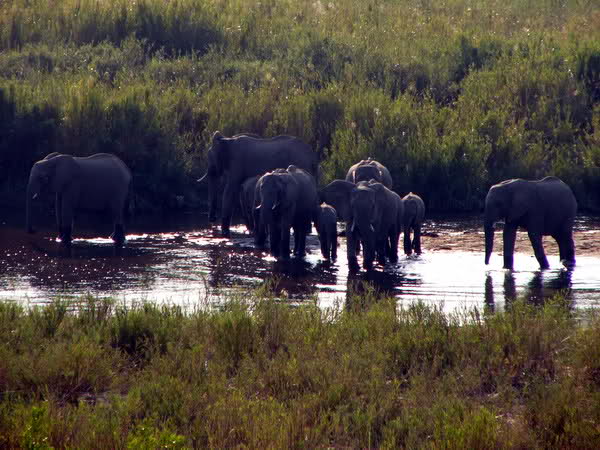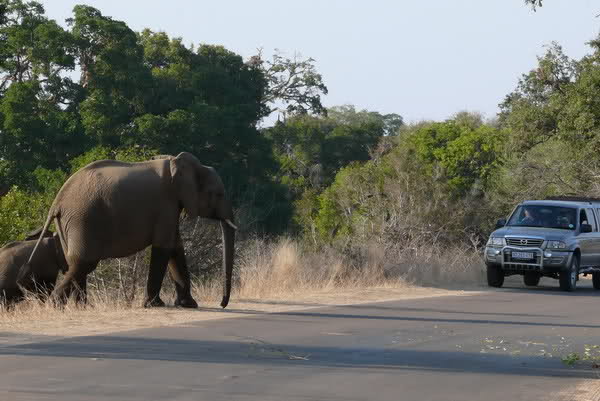 The next stop was Leeupan on the way to Tshokwane. A beautiful place to just sit and watch the surroundings, but for those of us with kids that means about 10 minutes maximum.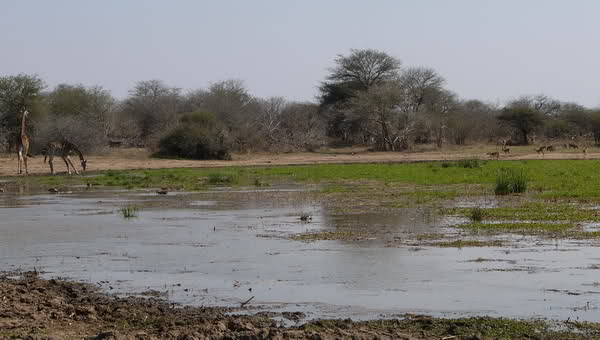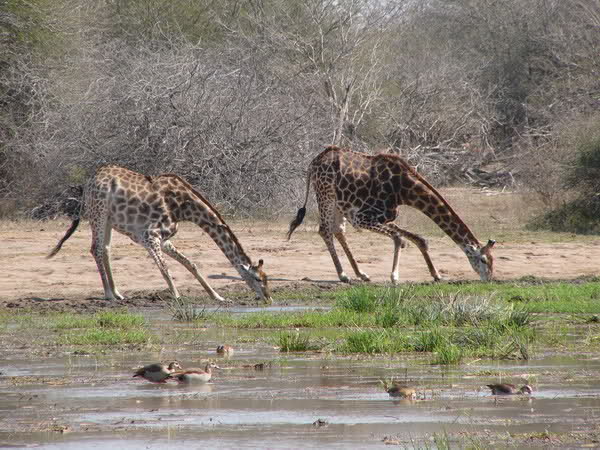 Tshokwane, although always busy, is one of my favourite stops for a late breakfast. The food is always good, especially the boerewors rolls. The 2 young ones decided, much to my horror and embarrassment, that the large number of birds would be great fun to play with. A few dirty looks and harsh words stopped the game before it got out of hand. We left Tshokwane at about 10 after a good breakfast and took a slow drive back down to the H12 bridge, where we normally see hippos relaxing at this time of the day.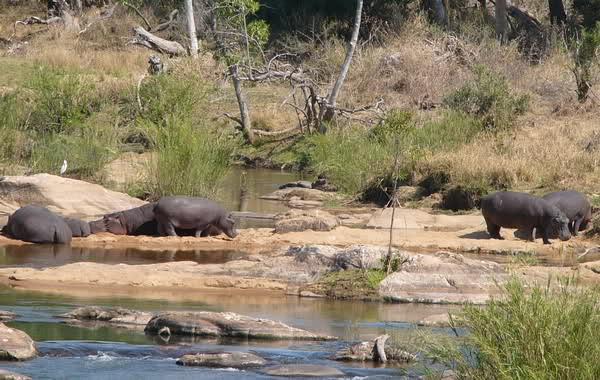 Then, about 1km along the H4-1 on the way to Skukuza there was a movement in the bush that caught someone's eye in Garth's car. Brakes and there he was, just casually taking a mid day stroll.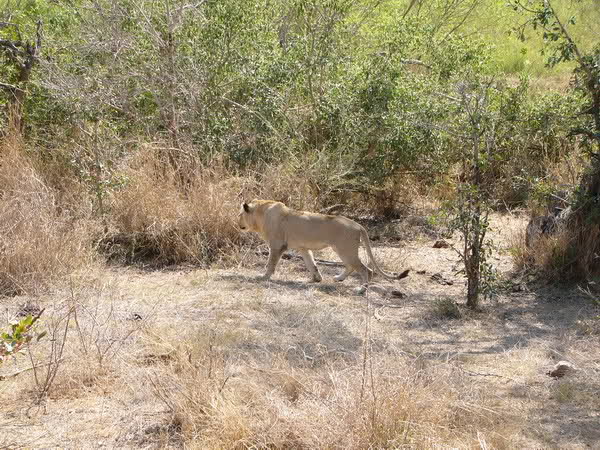 We followed him for about 10 minutes and then suddenly he decided to leave the bush and come and pose for a few photos. By now a fairly large crowd had developed and it didn't seem to bother him at all.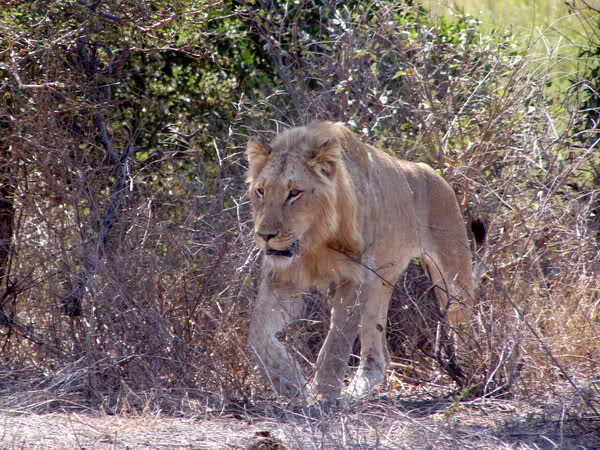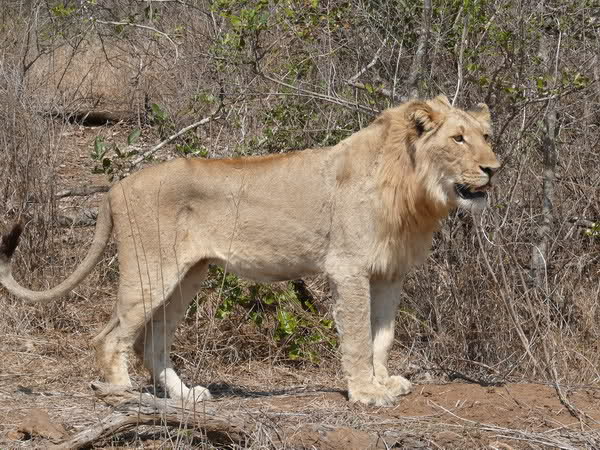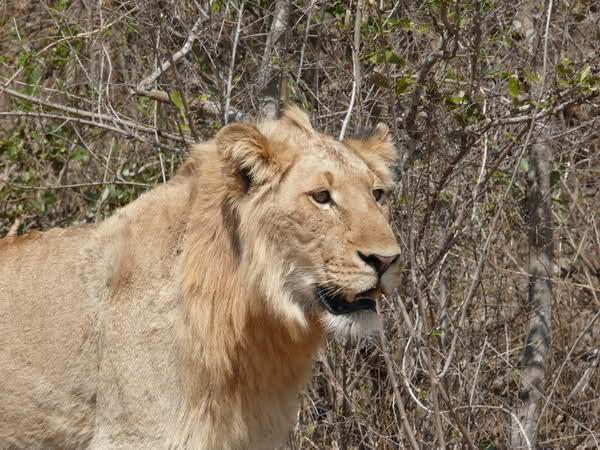 We only got back to camp after 12, so the kids were tired, therefore the afternoon drive was only going to be a short one.