Established in 1895, Hluhluwe-Imfolozi Game Reserve is the oldest game park in Africa. The Park covers some 96 000 ha and contains an immense diversity of fauna and flora.
©safarinow.com
As the home of Operation Rhino in the 1950s and 60s, the Park became world renowned for its white rhino conservation. Other areas of focus for which Hluhluwe-Imfolozi Park is famed include wilderness trails which originated in Imfolozi in the 1950s and its renowned Game Capture unit recently upgraded into the Centenary Capture Centre, a bench mark for animal capture and sustainable utilization throughout Africa.
Hluhluwe is characterised by hilly topography, and this northern section of the park is noted for its wide variety of both bird and animal life. Imfolozi, the southern component of the park, is generally hot in summer, and mild to cool in winter, although cold spells do occur.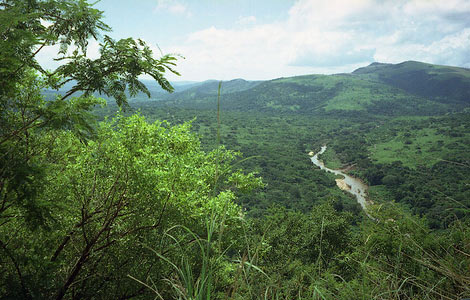 ©safari-guide.co.uk
The wide range of plant life in the park gives rise to a diversity of mammals, birdlife, reptiles and amphibians. Its abundance of wildlife include: Nile crocodile, hippo, white and black rhino, leopard, lion, cheetah, hyena, wild dogs, elephant, buffalo, blue wildebeest, jackal, giraffe, zebra, waterbuck, nyala, eland, kudu, impala, duiker, suni, reedbuck, warthog, bushpig, mongoose, baboons, monkeys, a variety of tortoises, terrapins, snakes and lizards.
©baobabtravel.com
©hluhluwe-imfolozi-safaris.co.za
In excess of 300 species of birds have been recorded. The variety of habitats within the area is one of the prime reasons why it is one of the prime birding destinations in South Africa. The Hluhluwe River Flood Plain is one of the only areas in the whole of South Africa where Yellow throated, Pink throated and Orange throated Long claw species can be seen together.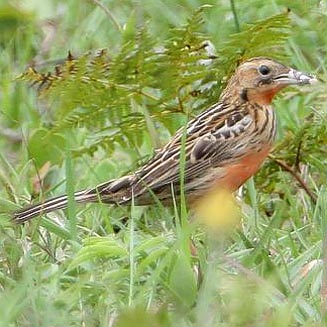 ©biodiversityexplorer.org
There are two camps in the park: Hilltop Camp and Mpila Camp.
Hilltop Camp
is situated on the summit of a forested hill in the Hluhluwe region and offers fine views of the surrounding countryside. It is the oldest camp in KwaZulu-Natal and was extensively rebuilt and enlarged in the early nineties. Today, accommodation at Hilltop Camp ranges from a luxury lodge to a variety of self-catering accommodation facilities. All units at Hilltop Camp are serviced daily. Facilities include: twenty 2-bed rondavels with communal ablutions and kitchens; seven 2-bed and twenty-two 4-bed self-catering chalets. Twenty 2-bed chalets, which are not self-catering, are within close proximity to the main reception area. This area includes an a la carte restaurant, an attractive pub and lounge decorated with photographs and memorabilia of the history of Hluhluwe, as well as a gift shop and convenience store.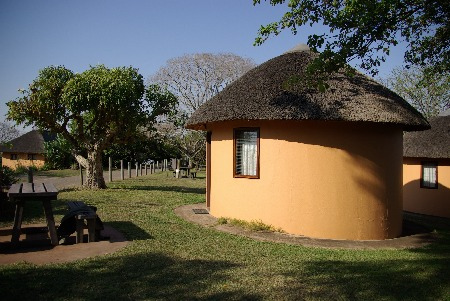 ©hluhluwereservations.co.za
©biodiversityexplorer.org
Mpila Camp
is centrally situated in the Imfolozi section, and commands magnificent views of the Wilderness area.
Twelve single-room thatched 2-bed chalets have recently been upgraded with en-suite bathrooms, kitchenette and decks. They are self-catering units with crockery and utensils provided. Mpila also has two self-contained 3-bedroomed cottages, each accommodating seven people, with a cook on hand to prepare food supplied by guests. For smaller groups, there are also six self-catering chalets which accommodate five people each. These have two bedrooms, a bathroom, kitchen, and a lounge/dining room.
©zululandreservations.co.za
The Safari Tented Camp at Mpila consists of thirteen 2-bed and two 4-bed units, all with en-suites. An optional third bed is available in each tent on request. Each unit has a verandah and is electrified. A fully equipped kitchen and dining area is connected to each tent by a wooden boardwalk. Barbecue facilities are available. These units are self-catering and are serviced daily.
©zululandreservations.co.za
Unleaded petrol is available, and curios and cool drinks can be purchased from the Mpila Camp Shop, but no provisions or restaurant facilities are provided.
All visitors pay a conservation fee of R70 per person per day (children 50%) replacing entry fees.
Auto trails in the Hluhluwe-Imfolozi Park are designed for the convenience of visitors who wish to discover the secrets of the bushveld from seclusion of their own vehicle.
The Imfolozi section of the park has three self-guided foot trails. Guide books are available to help visitors interpret the many points of interest along these trails.
Short day walks of approximately two hours are conducted from Mpila and Hilltop Camps under the supervision of an experienced field ranger. These walks may be booked at reception in both camps.
Several picnic sites with ablution and barbecue facilities are situated throughout the park.
Open vehicle night and day drives provide unique opportunities of viewing game. A knowledgeable guide is at hand to answer questions. Booking is at reception on a first come first serve basis.
There is a 40 seater boat on Hluhluwe dam which takes visitors on guided trips twice a day. (Please note the water level of the river is sometimes too low for boat trips.)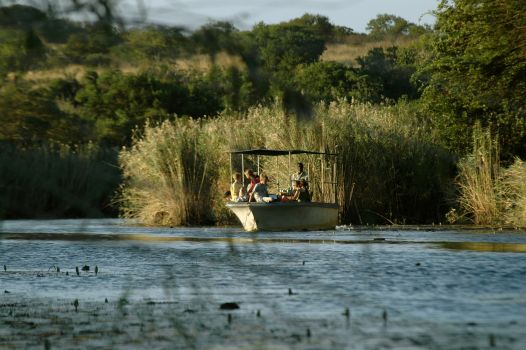 ©exclusivegetaways.co.za
Hluhluwe Imfolozi Park is in a malaria area and special precautions are necessary.
For accommodation enquiries go to:
http://www.kznwildlife.com