Thu Feb 23, 2012
About the same size as Wales, Kafue National Park is Zambia's largest park. It protects a wide variety of different environments on an undulating plateau veined by rivers.
In the far north of Kafue National Park, the Lufupa River flows into the Busanga Swamps. During the rains this floods out over the adjacent Busanga Plains. Later, around May, when these waters recede, they leave behind a carpet of lush vegetation – which is irresistible to many herbivores. The Busanga Plains is certainly Kafue's most enticing area for the diversity and quantity of its big game.
©ganeandmarshall.com
©africansafaris.com
Here you find flat grassland plains dotted with photogenic 'islands' of wild date palms, sausage trees and fig trees; it's a unique environment for Kafue. You'll often also find huge herds of red lechwe and puku, as well as buffalo, zebra, wildebeest and other antelope. The prides of lion residing here are known for their tree-climbing antics. It's Zambia's best area for cheetah and one of its best for wild dogs – and certainly the best game area in Kafue National Park.
There are four main camps on the Busanga Plains, at the north end of Kafue National Park and each is run by Wilderness Safaris.
Shumba Camp
is a smart, luxurious camp aimed at the top end of the market.
Kapinga Camp
is very similar to Shumba, made to the same high quality, and costs the same, but is slightly smaller than Shumba.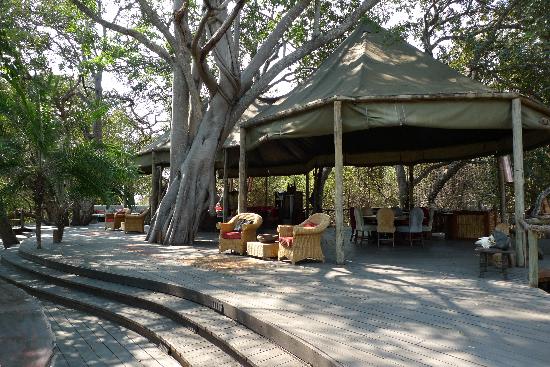 ©tripadvisor.com
Busanga Bushcamp
has been a seasonal camp on Kafue's Busanga Plains for many years, and it was completely rebuilt around 2006. Here the emphasis is on game-viewing rather than the interior décor. It can accommodate eight guests in four comfortable tents. The lounge and bar area is under canvas with an uninterrupted view out over the plains.
©africa-adventure.com
©cedearburg-traval.com
Musanza Bushcamp
is by far the simplest of the four camps on Kafue's Busanga Plains, with six simple, yet comfortable walk-in tents. Each tent has its own private bathroom facilities including a flush toilet and hot water bucket shower. The main dining and communal area offers stunning views across the plains and of the Kafue River where hippos and crocodiles dwell. The area is well-known for its frequent leopard sightings and impressive diversity of antelope.
Away from Busanga Plains, there are three camps to note. These are frequently used as necessary 'staging posts' en route to and from the Busanga Plains. The main base of operations in the centre of the northern half of Kafue National Park is Lufupa.
Lufupa Tented Camp
caters for mostly overseas visitors and is set up to include park fees for the national park, activities and meals. It has nine Meru-style tented chalets each with a wooden deck. A relaxed central area, complete with a boma, fireplace, dining area and small plunge pool, lies on the edge of the broad Kafue River.
©maplanga.co.za
Lufupa River Camp
is slightly upstream from the Tented Camp, and its tents are constructed in the same way. However, activities and meals aren't included here; it's really designed for visitors to Kafue who live in Zambia to drive their own 4WDs here.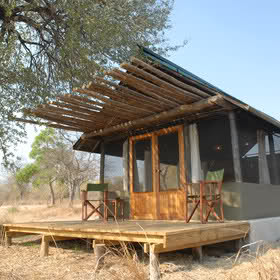 ©baobabexpeditions.com
On the north-eastern side of Kafue National Park, the permanent Lunga River is deep and always surrounded by a band of lush, green forest. It's a sublime river to boat along. The bird-watching here is first-class, and the game sightings can be excellent also. There's one camp here:
Lunga River Lodge
is on the north-eastern side of the park. It is a luxury bush camp that is comprised of 6 thatched chalets equipped with high quality facilities also aimed at the top end of the market.
For many years Southern Kafue has been largely ignored. The reality is that the game can be quite patchy, clustered around areas where it has historically been best protected. These areas have been expanding recently though, and it's gradually becoming an area worth visiting for those who value the exploration as much as the game-sightings.
Kaingu Lodge
stands just south of a long-standing good area for game, Puku Pans. It comprises luxurious safari tents set under thatch and placed on raised platforms overlooking the river. Each unit has en-suite ablution facilities with hot and cold running water and 12 Volt solar lighting, and are carefully positioned to assure privacy, safety and integration with the surrounding vegetation.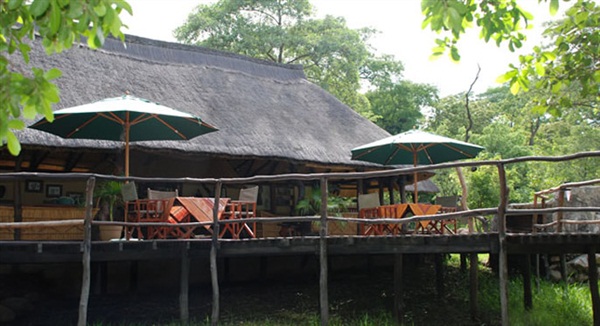 ©hotels-and-lodges.com
For accommodation enquiries go to:
http://www.wilderness-safaris.com/
[/quote]