April 3rd Skukuza to Satara continued
The rest of the drive to Tshokwane was relatively quiet, that's until the clan spotted the green porta potties and the Cow started "There's no way I'm standing in a queue to use that" and Hawkeyes agreed.
I didn't see an issue, so got excited "What do you want me to do!!" and the response was "We will all hold it", but the faces were all sour, so I suggested Orpen Dam toilets and all agreed, but had forgotten the quality of the long drop and I purposefully didn't bring it up.
The road to Orpen Dam was quiet and a few other people obviously had the same idea, as Orpen was busier than usual. It was great to see that all the green algae got flattened by the flood, but I fear it will return shortly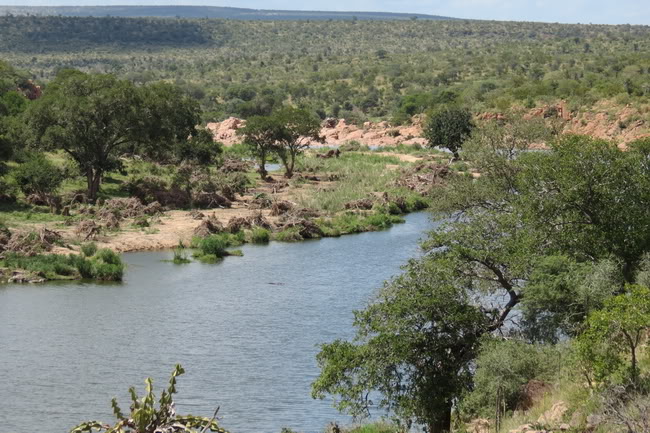 Toilet time for the clan was a real adventure and I was rolling listening to the conversation of all 4 that had squeezed into the long drop bog. The last to go was Albert and she refused to get on the bog, as Bushpiggy had suggested that something may live down there, which gave Albert big eyes and got Bushpiggy howling with laughter.
The Cow gave BP a greasing and after 5 minutes convinced Albert to go, so we were back on the road.
The rest of the way to Satara produced the odd elephant, giraffe, zebra and all the midday gang, including a lone immature waterbuck that was hanging out with impala, which I found strange.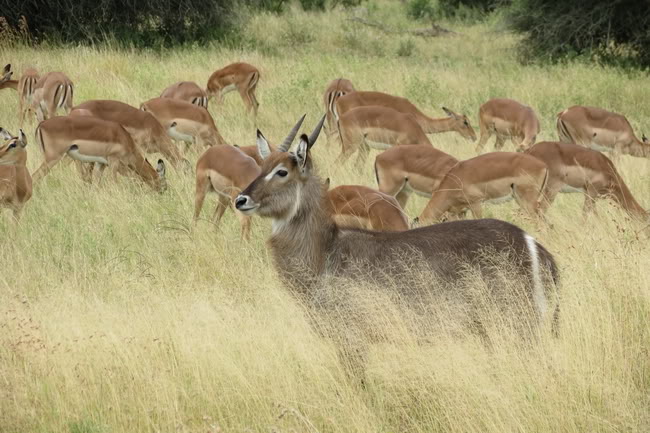 We arrived at Satara an hour too early and everyone was tired and irritated, so the Cow tried her luck at reception, but no joy, so we had to wonder around awhile, which ended up, the sighting board, web cam, back to the sighting board, shop and then back to reception.
We were allocated the Shoprite 6 sleeper unit, which seemed cool, but it was open when we arrived, so I tried to lock it, but it wouldn't lock. The Cow reported this, but when we left 3 days later it was still stuffed and nobody ever arrived to repair it.
I was more concerned about our neighbours though who had moved their dining room table onto their veranda and were having a party. There were many families' present, screaming adults, howling kids, bicycles, etc, so my pelican was out immediately.
After my second G&T and some rather loud comments from my veranda things hadn't changed, so I put on my thunder face and walked around to the front of their unit to see what was going on.
They all seemed to get the hint, except for a drunken lady who continued to shriek her head off.
A few minutes later the small baby that was crawling around unattended fell off the veranda wall and landed face first in the dirt. Luckily the kid wasn't seriously hurt, but this seemed to end the party and people started to leave in all different directions.
I don't understand why some people can't respect the fact that others maybe don't want to hear their conversion or party, but I suppose all types visit Kruger, even those that don't understand that there's a time and place for everything.
We weren't keen on a long afternoon drive, so decided to duck down the H7, check out Nsemani Dam, do the short S12/S40 loop and head back to camp.
Things were relatively quiet, until about 500m from Nsemani Dam where a few heads popped up in the grass.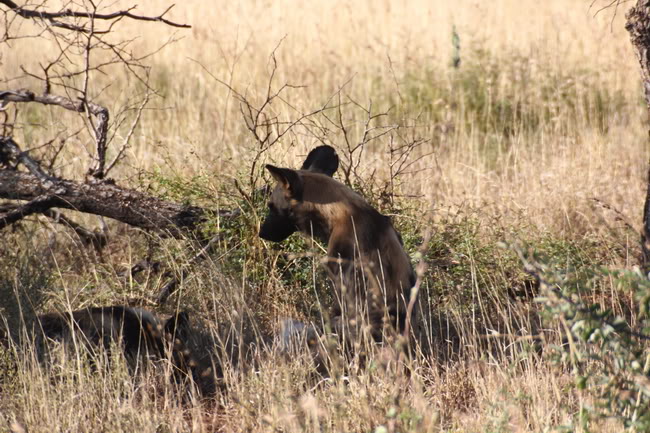 They lay down again a few seconds later and disappeared in the grass. We sat around with a few other cars for about 15 minutes, but the dogs weren't showing themselves again, so I explained the Wild Dog greeting story that happens when they all wake up, but the clan looked at me as if I had smoked something, so I decided to continue with our route and stop back at the dogs at the correct time.
Nsemani Dam produced a large boon family that were scratching around in the dirt. We had a laugh at one who was rather nervous to have a drink, but eventually the thirst beat the nerves.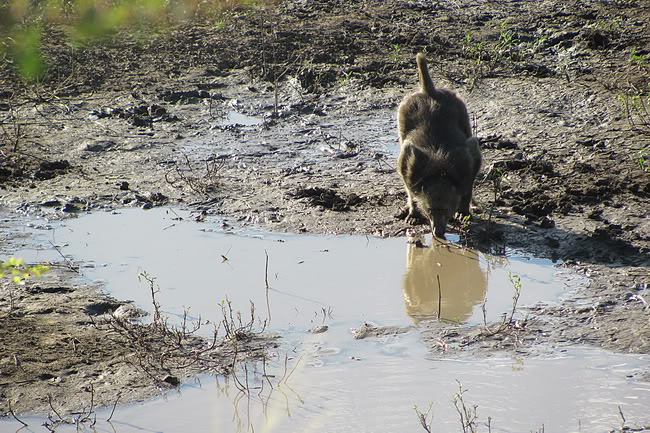 The S12/S40 loop didn't produce much and it had been a long day, so we ducked up the road to the dogs again, got a good spot and switched off to wait.
After 10 minutes the rats started "Dad are they still there, Dad I can't see anything, Dad nothing is happening, Dad when is the ritual starting, Dad Albert won't pass the crayons, Dad we are bored"
This was slowly building the blood pressure to exploding point, but just as I was about to blow, a head popped up "CAMERA, it's starting". Again the Cow looked at me as if I was mad.
Slowly, one at a time, the dogs got up and then it started, which got my car wild with excitement again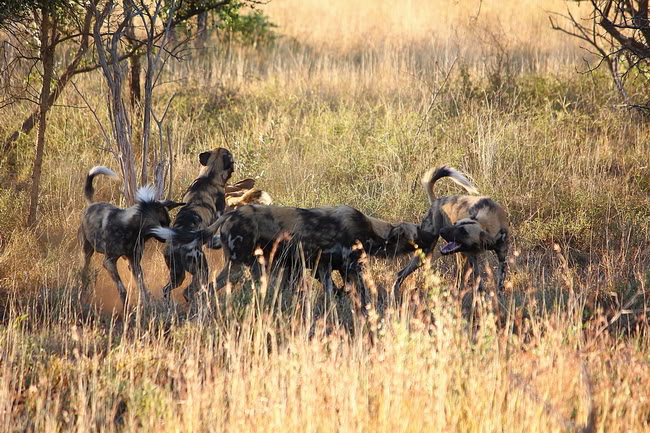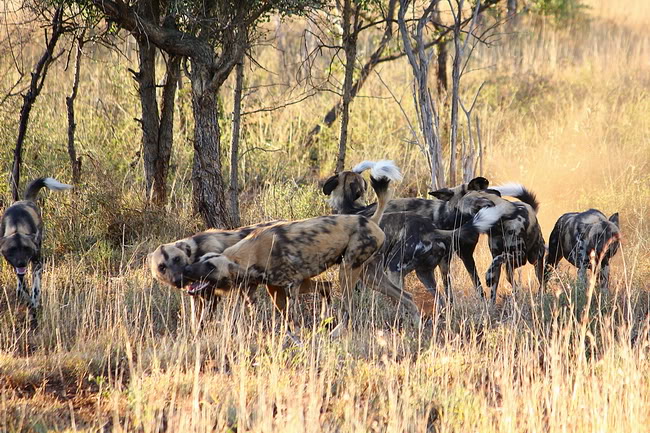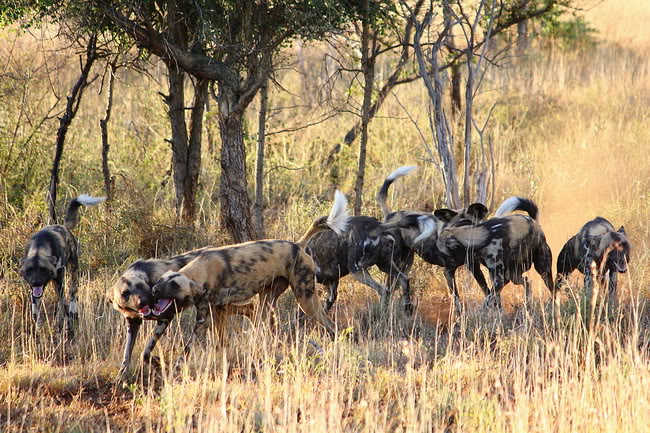 The initial gang set more off and heads started popping up all over the place. We managed to count about 15 of them, but it was very difficult to get an accurate number as they were charging around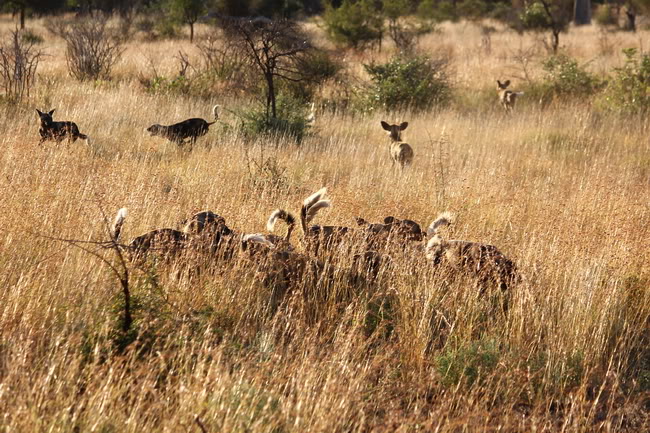 This ritual and charging around carried on for about 10 minutes and then the lead dog took off into the bush and the rest followed.
The Cow was stoked that she managed to get the entire event on video, so I was no longer the faulty nutter.
We still had a few minutes to spare, so we went back to Nsemani to see what was happening and managed to get a couple of pics of a waterbuck family.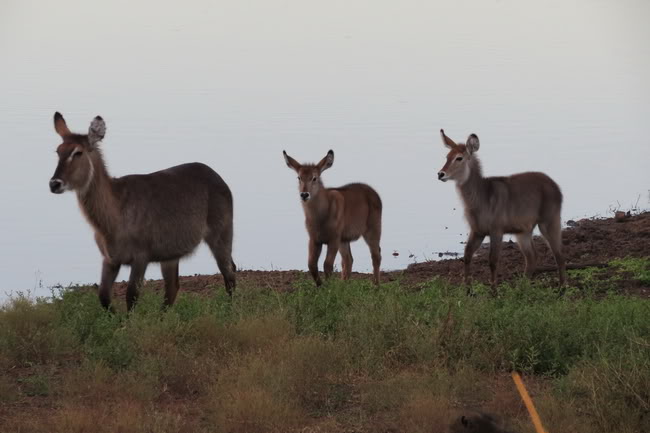 On the way back to camp we found a large elephant next to the road, but the Cow made me drive past it and then stop at a safe distance for a pic.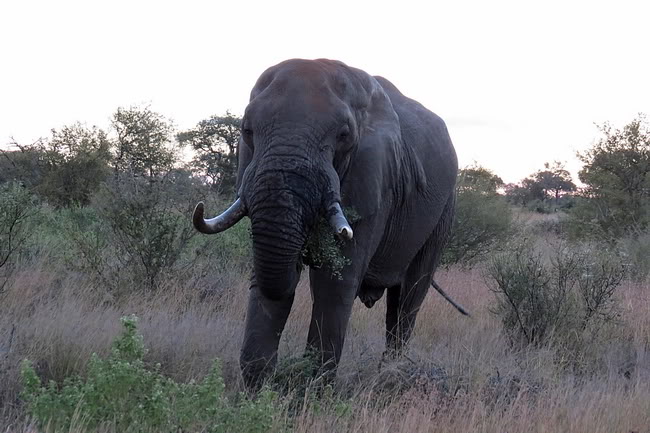 My teeth were hanging out as we pulled into camp, as it had been a good day, but then I remembered our defective neighbours and my beak returned.
Things sounded quieter as we got out at our unit, so I went to investigate and found that our neighbours had taken their party to another unit on the other side of the Satara circle. My teeth returned, but I did feel sorry for those on the other side of camp.
To be continued