188.
Umbrella Thorn, Curly-pod Acacia
Vachellia tortilis, Acacia tortilis
Basterkameeldoring, Haakdoring, Haak-en-steek
Order: Fabales. Family: Fabaceae. Subfamily: Mimosoideae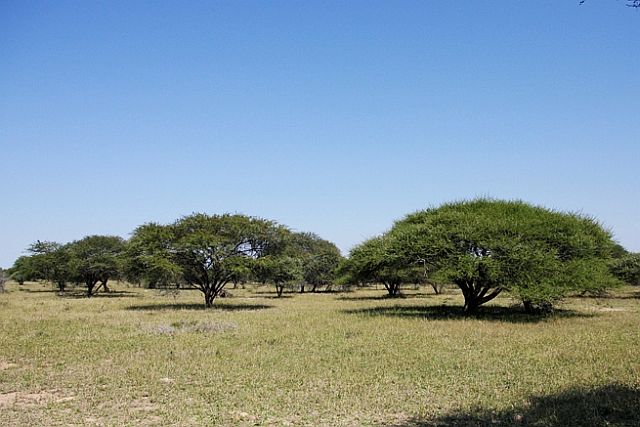 © leachy
Lowveld, Limpopo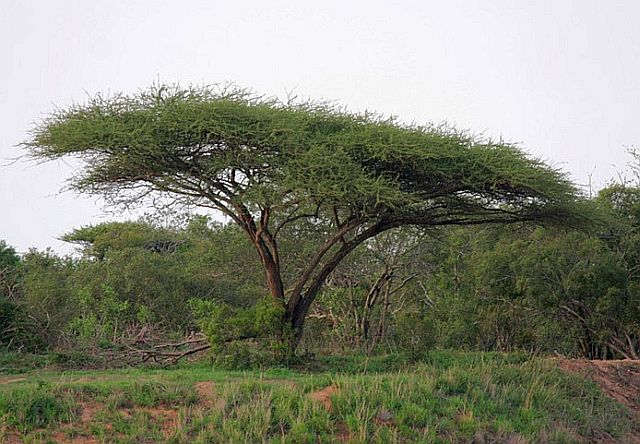 © leachy
Kruger National Park, on the bank of the Sabie River, Lower Sabie Low Level Bridge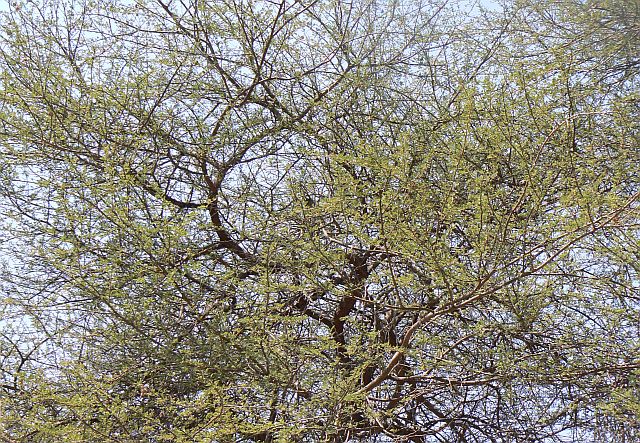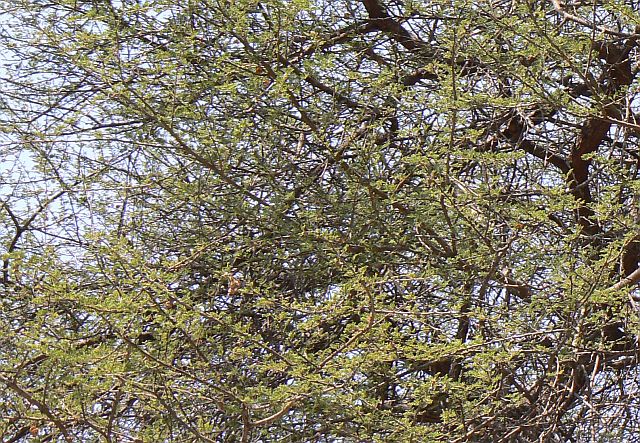 Kruger National Park, Letaba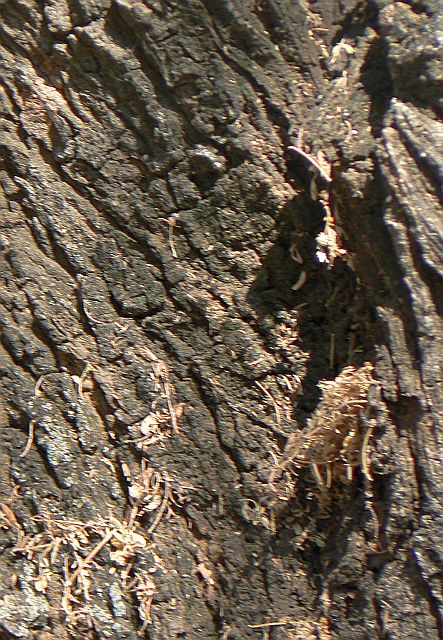 Desciption
This is the most striking of the umbrella trees of the Thorny Bushveld, with a particularly flat umbrella canopy of grey-green leaves. The leaflets are very tiny, giving the umbrella canopy a fine, feathery appearance.
This is often a single-stemmed tree with a straight trunk, but its growth form is very variable. Upper branches come off horizontally to form a flat, umbrella canopy. Young trees, and mature trees growing on shallow soil, tend to form a rounder canopy, with the thin branchlets and twigs intertwining. In mature trees the bark is dark grey and rough, with deep, lengthways fissures. Younger trees have smoother, lighter bark. The twice compound leaves are grouped at the leaf-bud. The leaves are very small and delicate with 4 – 10 pairs of feathers and 5 – 15 pairs of leaflets (Leaf: 20 – 30 mm; leaflet: 1 – 2 x 1,4 mm). The sharp, white thorns are not always obvious. Characteristic of the species, it has three kinds of thorns: short, hooked thorns interspersed with long, straight thorns; occasionally a pair of one hooked and one straight thorn (Straight thorn: 50 – 90 mm; curved thorn: 3 – 5 mm). Large numbers of sweet-scented flower-balls grow on older twigs, often shortly after rain (Oct – Feb) (5 – 10 mm). The pale brown pods hang in bunches. Each pod is tightly coiled. The pods do not split open on the tree (Dec – Jun) (Pods: up to 125 mm long when stretched out, 8 mm wide).
Distribution
This is a very widely distributed species and occurs in Namibia, Botswana, Swaziland, Mozambique, South Africa (Free State, Gauteng, KwaZulu-Natal, Limpopo, Mpumalanga, Northern Cape, North West).
Habitat
Vachellia tortilis
occurs in deciduous woodland, thornveld and bushveld. It is found from sand dunes and rocky scarps to alluvial valley bottoms, avoiding seasonally waterlogged sites. A very drought-resistant species, the umbrella thorn grows in areas with annual rainfall as low as 40 mm and as much as 1200 mm, with dry seasons of 1–12 months. The tree favours alkaline soils but will colonize saline and gypseous soils.
Links:
SAPPI Tree Spotting - Lowveld