Bushy Bulbine
Bulbine abyssinica
(Geelkatstert, Wildekopieva)
Order: Asparagales. Superfamily: Xanthorrhoeacea. Family: Asphodelaceae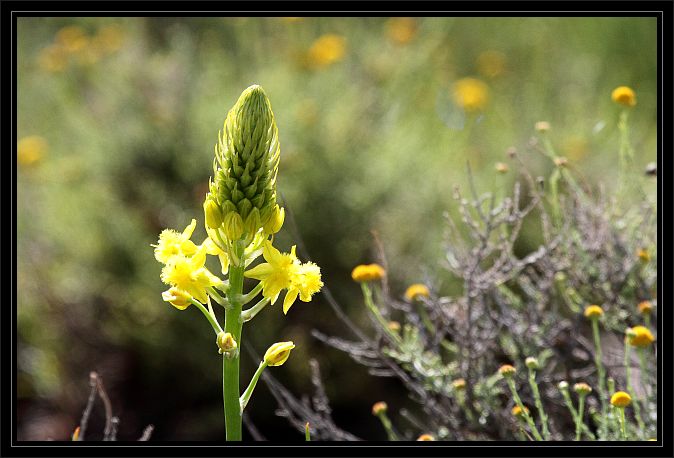 © Sharifa
Mountain Zebra National Park
Description
Bulbine abyssinica
is a succulent, perennial herb which grows in small clusters. Growing from 40 to 80 cm. The soft, dark green leaves are erect or arching, linear, grass-like and up to 350 mm long. Several dense, many-flowered, spike-like inflorescences are formed from a cluster of plants during spring. The inflorescence lengthens as the flowers open and can become up to 0.8 m tall. The bright yellow flowers are star-shaped with bearded stamens and mature from the bottom of the inflorescence, with about ten flowers open at a time. The stalks of the old flowers and fruit are straight and project at almost right angles from the central axis of the inflorescence. Mature fruits are black, ± 4 mm in diameter and often covered with the faded perianth (flower petals) persisting as a cap.
Distribution
Bulbine abyssinica
occurs from the Cape further north to Ethiopia. Provincial distribution in South Africa: Eastern Cape, Free State, Gauteng, KwaZulu-Natal, Limpopo, Mpumalanga, Northern Cape, North West, Western Cape.
Habitat
It favours rocky grassland and shallow soil overlying rock, but can also be found in woodland and along seepage areas. It frequently forms small colonies.