https://lowvelder.co.za/461752/communit ... l-upgrade/
Community in two minds about Afsaal upgrade
The thought of a spa in the bush is currently dividing enthusiasts in two almost hostile camps.
21 hours ago
SKUKUZA – An upgraded facility at Afsaal in the Kruger National Park (KNP) to buy freshly-prepared, delectable eats-on-thego? Yes, say Kruger lovers!
A children's play area and tree house? Well, maybe, they say.
But the thought of a spa in the bush is currently dividing enthusiasts in two almost hostile camps.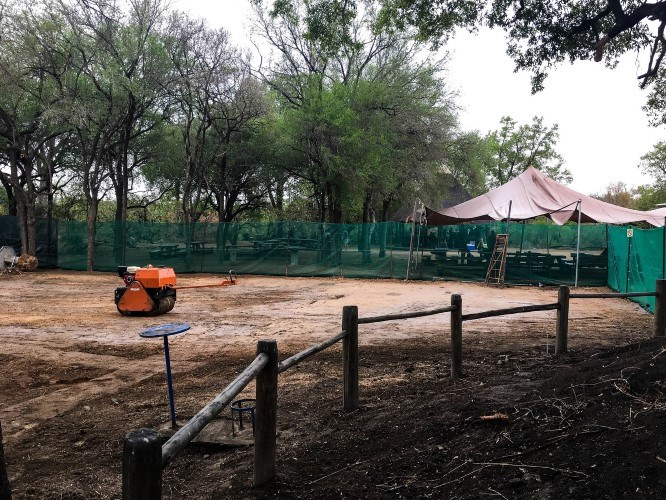 Tindlovu Management Services recently announced a makeover in three phases after taking over the management of this popular picnic spot in 2016. The first, to be completed soon, would comprise the creation of Tindlovu Express which will offer fast food and Tindlovu's famous coffee.
The curio shop will also be given a fresh look and be stocked with new items. Temporary facilities will be available while renovations are under way.
The second phase would include the construction of a restaurant and the third, a spa. "Think how relaxed you will feel after being pampered in an environment that in itself is balm for the soul," the announcement promised.
Also planned for this stage, to be completed in the latter part of 2019, is an overnight hide and guided walks. "Afsaal will have the look and feel of a timeless African lodge, modelled on Tindlovu's latest restaurant, which has become a favourite in Mbombela since recently opening at i'langa Mall," the promise continues.
Other Tindlovu restaurants in the KNP; at Punda Maria, Shingwedzi, Mopani, Letaba, Olifants, Satara and Berg-en-Dal; are supposed to follow suit, according to Jo-Anne White, the founder of Tindlovu Management Services.
But not everybody is as excited as White. On social media, people reacted emotionally towards both sides. Some were worried that the Kruger would become a resort, feeling that there were enough places outside the park where people could enjoy spa treatments and children could utilise play areas.
Others were mainly concerned about possible noise. "Kruger is supposed to be quiet and peaceful for those who enjoy nature," they said. "It is a reserve, not a resort and increased traffic and noise would not be good for game viewing."
Some accused those against the plans of selfishness and suggested the option of choice. "Whether you like change or not, be it for the better or worse, you can choose to ignore and pass it," was one's advice. "You either stop at Afsaal, or you pass," another wrote.
One felt that catering for kids who have spent a few hours in a car was a good idea and that a spa would have no noise impact. "Moreover, income generated from the spa could be put to improving the park and other facilities, making it more attractive to families with little children."
Suggestions were also made to rather replace the spa with a wildlife education centre, to benefit both children and adults.
The more clear-minded pleaded for written submissions to Tindlovu customer care, since they have promised to take all concerns into account.
Pieter Malan of Tindlovu customer care commented, saying the company understands customers' concern about some of the proposed changes and promised that the renovations would neither remove the bush experience, nor the wilderness. "The spa will be separated from the picnic spot and kept simple, offering only holistic treatments and nothing cosmetic," he said. "We respect nature and wildlife in all we do."
He said correct procedures are followed to ensure that renovations would not hinder the environment and ensured guests that the skottel braais, picnic and public areas will remain available. It would only be refreshed due to wear and tear. Public areas would also sport increased seating capacity.
He reiterated that the proposed play area and spa were not part of this phase of the renovations and that all concerns raised were sent to their architect, development team, SANParks and Tindlovu CEO's office. "Every concern will be readdressed before the commencing of those features," he promised, emphasising their wish to complement the bush experience with extra features for all to enjoy.
He invites objectors to contact them on 013-750-2207 during office hours or at
customercare@tindlovu.co.za
.