Flutterby

Site Admin
Posts: 43804
Joined: Sat May 19, 2012 12:28 pm
Country: South Africa
Location: Gauteng, South Africa
Look how unhealthy they are!!



---
Peter Betts

Posts: 1625
Joined: Fri Jun 01, 2012 9:28 am
Country: RSA
---
Lisbeth

Global Moderator
Posts: 51586
Joined: Sat May 19, 2012 12:31 pm
Country: Switzerland
Location: Lugano
HSI/Africa urges department of environmental affairs to heed Parliament's call to end captive lion breeding for trophy hunting and the bone trade
BY HUMAN SOCIETY INTERNATIONAL - AFRICA - 6 DECEMBER 2018 - PRESS RELEASE
HSI/Africa urges department of environmental affairs to heed Parliament's call to end captive lion breeding for trophy hunting and the bone trade
CAPE TOWN (6 DECEMBER 2018) – In a press release dated 3rd December 2018, newly appointed Minister of Environmental Affairs, Honourable Mrs Mokonyane, confirmed that the agency will appoint a high-level panel to review policies and legislation on a number of matters related to elephant, lion, leopard and rhinoceros handling, management, breeding, hunting and trade. One of the panel's mandates pertains to the captive lion breeding industry, and a need to "harmonise sustainable use with strictly controlled legal international trade and monitoring."
The confirmation of this high-level panel appointment comes on the back of then Acting Minister Derek Hanekom's announced intent to establish this panel in response to a report tabled by the Parliamentary Portfolio Committee on Environmental Affairs (PPCEA) after a two-day Colloquium on Captive Lion Breeding for Hunting in August and the subsequent release of its report in November. The report called for a policy and legislative review of captive breeding of lions for trophy hunting and the lion bone trade with a "view of putting an end to this practice." The Committee's Chairman, Honourable Mohlopi Mapulane added that "It seems as if South Africa's conservation reputation is being compromised by this practice which does not seem to benefit broader conservation but a small number of breeders without proper scientific or conservation basis."
HSI-Africa's Wildlife Director, Audrey Delsink, said: "The Department is out of sync with the Resolutions of the PPCEA, the South African public and even the trophy hunting industry in its continued propping up of the captive lion industry. We urge the Department to shut down this unethical industry profiting from animal cruelty, bogus medicinal tonics made from lion bones, and tourist scams."
Media Contacts:
HSI/Africa: Media and Communications Outreach Manager Leozette Roode, mobile +2771 360 1004,
lroode@hsi.org
HSI/UK: Director of International Media Wendy Higgins, mobile +44 (0) 7989 972 423,
whiggins@hsi.org
Notes:
- A nationwide survey of South African citizens revealed an overwhelming public concern about the captive lion breeding industry, with a vast majority agreeing it is harmful to the country's international reputation.
- A report from the South African Institute of International Affairs, commissioned by HSI, states that the revenues generated by the lion cub petting and lion walking tourist attractions, while highly lucrative for these businesses, constitute only 1.85 percent of South Africa's overall tourism industry, which is one of the biggest employers in the country.
- In 2018, U.S pro-trophy hunting group Safari Club International announced that it will no longer allow the promotion or auctioning of hunts involving African lions bred and shot in captivity adding that canned hunting "has doubtful value to the conservation of lions in the wild."
- Other hunting organizations have also spoken out against trophy hunting of captive-bred lions including Dallas Safari Club, Boone and Crockett Club, Operators and Professional Hunter Associations of Africa and Namibia Professional Hunters Association.
ABOUT HUMANE SOCIETY INTERNATIONAL
Humane Society International and its partners together constitute one of the world's largest animal protection organisations. For more than 25 years, HSI has been working for the protection of all animals using science, advocacy, education and hands-on programs. Celebrating animals and confronting cruelty worldwide – on the Web at hsi.org.
"Education is the most powerful weapon which you can use to change the world." Nelson Mandela
The desire for equality must never exceed the demands of knowledge
---
Lisbeth

Global Moderator
Posts: 51586
Joined: Sat May 19, 2012 12:31 pm
Country: Switzerland
Location: Lugano
© Pippa Hankinson - Blood Lions Film and Campaign
Anger over green light given to lion farms
BY ELISE TEMPLEHOFF - 13 MARCH 2019 - BEELD
Non-governmental and conservation organizations are highly upset that the Department of Environmental Affairs has not shown the "political will" to close the Canned Lion Breeding industry. This was the general response yesterday by stakeholders to the Department of Environmental Affairs' submission on the controversial industry to the Environmental Affairs Portfolio Committee.
According to the submission, officials from the Department of Environmental Affairs have visited 227 lion farms over the past few months. The department's team explained to the portfolio committee that 88 were trading without permits. However, the department renewed the permits there and then.
Dr. Louise de Waal, of Green Girls in Africa, and consultant for the responsible tourism industry, described the department's actions as "shocking". "The permits were renewed without any of the owners of the lion farms being fined.
According to the departmental team, the Free State has the most lion farms. Inspectors from the department visited 111 of these farms in the Free State. 62 of them farmed with lions without permits. In North West, where the second-largest lion farms are, officials visited 74 lion farms and 20 did not have permits. In Limpopo they visited 31 lion farms and 6 did not have permits. "All expired permits have been renewed."
According to the department, lion farms are not allowed in the Western Cape.
Stefania Falcon of Future for Africa Wildlife, who attended the parliamentary debate, said the committee members "were like lambs in the hands of department officials."
"Rather than forcing the portfolio committee to force the department to close the industry, they agreed better regulation should rather take place."
This is inconsistent with the Report published by the Portfolio Committee in August last year, which recommended that legislation should be introduced to close down the industry .
She said she was "extremely annoyed" in the portfolio committee's "sudden turnaround" of their early stance that this industry was unethical, and that the South Africa's name was being damaged by it .
Audrey Delsink, director of Humane Society International in Africa, said she was "stunned" by the department of environmental affairs. The whole process that was proposed early on by the portfolio committee to close the canned lion industry has derailed. "It's totally undermined," she said. In addition, the Department of Environmental Affairs is hiding behind the Department of Agriculture, Forestry and Fisheries regarding the welfare of the thousands of canned lions in South Africa. "It goes without saying that, despite research showing that the canned lion industry will cost South Africa R54 billion in loss of tourism revenue, the portfolio committee is suddenly satisfied that the industry is regulated."
She once again cautioned them about the damage it will do to brand South Africa.
Ross Harvey of the South African International Relations Institute said he also found it shocking that the Department of Environmental Affairs had ignored the recommendations of the portfolio committee report.
*This article was translated from Afrikaans
Read original article here:
https://www.netwerk24.com/Nuus/Omgewing ... e-20190313
"Education is the most powerful weapon which you can use to change the world." Nelson Mandela
The desire for equality must never exceed the demands of knowledge
---
Flutterby

Site Admin
Posts: 43804
Joined: Sat May 19, 2012 12:28 pm
Country: South Africa
Location: Gauteng, South Africa
---
Lisbeth

Global Moderator
Posts: 51586
Joined: Sat May 19, 2012 12:31 pm
Country: Switzerland
Location: Lugano
I wonder if some money has changed hands here

It is not possible that all those lion farms were tip top in order, I simply do not believe it!

"Education is the most powerful weapon which you can use to change the world." Nelson Mandela
The desire for equality must never exceed the demands of knowledge
---
Peter Betts

Posts: 1625
Joined: Fri Jun 01, 2012 9:28 am
Country: RSA
The NEW Minister of Environmental Affairs is a Corrupt CORRUPT individual who taught Zuma everything ..so join the dots
---
Lisbeth

Global Moderator
Posts: 51586
Joined: Sat May 19, 2012 12:31 pm
Country: Switzerland
Location: Lugano
Government kicks the can forward yet again as the fate of thousands of lions remains in limbo
By Don Pinnock• 26 March 2019
Two lionesses rub against a cage fence at a captive breeding centre for large predators at an undisclosed location in South Africa's Free State Pro
Lions in South Africa are falling victim to our interpretation of what they actually are – and paying a heavy price. People and organisations dealing with them are talking past each other and becoming exasperated at the failure of the other side to understand their reasoning. They simply aren't speaking the same language.
After years of heated discussion on captive-bred lion farming, culminating in two days of intense parliamentary interrogation – during which the chair of the Environmental Portfolio Committee, Philemon Mapulane, expressed his disgust at the practice – the issue has been kicked forward yet again.
The Department of Environmental Affairs (DEA) simply ignored the parliamentary resolution, stating that it should "as a matter of urgency initiate a policy and legislative review of CLB (captive lion breeding) for hunting and lion bone trade with a view of putting an end to this practice". It re-issued permits for 88 lion breeding facilities.
Captive lion breeding will now be pondered by a yet-to-be-appointed Panel of Experts formed to "review the existing policies, legislation and practices related to the management, breeding, hunting, trade and handling of elephant, lion, leopard and rhinoceros". Nominations to the panel are restricted to "persons … committed to and subscribe to the objectives and principles of conservation and sustainable use".
Because of definitional differences on what lions represent, the conclusion of the panel (whose terms of reference have yet to be revealed) will depend on which assumptions predominate. The fate of around 8,000 farmed lions, therefore, will depend on who sits around the table, something the Department of Environmental Affairs (DEA) will decide. Given its clear support for one side of the argument, this is not encouraging.
For the DEA, lion breeders, hunting outfitters and hunting organisations, lions are a natural resource that can be used like timber, water or land. If used sustainably, they can continue to provide for human needs. This view is what professor in Fundamental Rights and Constitutional Law at the University of Johannesburg, David Bilchitz, describes as an "anthropocentric utilitarian ethic that seeks to achieve the greatest benefits for the greatest number of human beings". It's flagged as sustainable use.
In this view, conservation is good because lions have an economic value, be it for hunting, tourism or resale. Such an approach, to paraphrase Bilchitz, would support trophy hunting of large mammals on the grounds that the killing of some lions, leopards, elephants and buffalo can provide incentives for people to conserve the rest of these creatures because they become a source of livelihood and wealth. Hunting is also said to provide an income and revenue for conservation.
In the Parliamentary colloquia, the DEA took this view, arguing that lion breeding farms were a sustainable way of using national resources and contributed jobs and tax revenue to the economy. It's a viewpoint, of course, supported by the largest hunting associations in South Africa.
This approach essentially rejects the notion that individual animals have worth and interests in their own right, are sentient and deserving of respect. The idea of a proud, beautiful beast nobly giving its life to a human after a "fair chase" has currency around a hunter's campfire, but is disingenuous. Any creature, if it could, would beg to differ.
This view obviously underpins a raft of profitable enterprises, all the way from barefoot trackers to huge hunting fraternities like the Safari Club International – not to mention possibly large sums of money surreptitiously passed in brown envelopes and fancy handbags.
It also has an impact on poaching. Where animal life is regarded as dispensable and instrumental to profit in the context of legal hunting, why should those who are economically deprived take a different approach?
Bilchitz describes the above position as "aggregative" – conserving for human use and pleasure. The opposing pole he describes as "integrative" – respecting the individual rights and welfare of animals. The difference between the two approaches is essentially between usefulness and compassion.
For many conservation organisations, a large proportion of the general public and scientists working on animal behaviour and cognition, animals as individuals and as species as well as their ecosystems deserve and require our respect.
This approach recognises the importance of relationships between individual animals and the environment in which they live, including their connection with human beings. It insists that respect for individual animals and their value is essential in ensuring the survival of the species as well as the protection of the environment.
In terms of this approach, individual animals may be used as a means, but never treated merely as a means. Sustainability should enshrine a conception whereby any use is legitimate only if it is done in a manner compatible with respect for the creature in question that is being used.
According to Bilchitz, this view recognises a close relationship between individuals and a species. By promoting respect for individuals and recognising our moral and legal obligations towards them, he says, the view forces human beings to have a stake in the survival of individuals which are indivisible from their species.
"It rejects the idea that the killing of animals such as lions for mere pleasure or entertainment constitutes a form of 'sustainable use'. Similarly, removing baby elephants from their mothers and subjecting them to cruel forms of training to force them to allow people on their backs would not qualify as being a sustainable use."
In a recent judgment, the Constitutional Court expressly indicated its approval for an integrative approach, which, it noted "correctly links the suffering of individual animals to conservation and illustrates the extent to which showing respect and concern for individual animals reinforces broader environmental protection efforts".
This means that the integrative approach reflects the legal doctrine to be adopted in South Africa when interpreting the environmental right and, consequently, environmental legislation.
These conflicting approaches to lion ownership and hunting come from very different traditions. The aggregative approach is a relic of colonial conquest of both lands and people grafted onto the contemporary monetisation of wild animals and their parts.
As Dan Wylie notes in his book Death and Compassion, "indigenous attitudes towards wild animals were doubtless not always benign, but it is certain that they were never as comprehensively murderous as those introduced by European incursion". Hunting, he says, was part of Western civilization's technological power over a wild and unruly African "other".
That "other" was a magnet for early hunter/travellers. In England of the 17th and 18th century, you could shoot a grouse if permitted by the landlord, while in Africa you could gun down a herd of elephants with no restriction and stitch it into a tale of heroism. These days hunters deck their walls with mounted corpses and bragging rights while claiming they do it for conservation.
The integrative approach has its roots in two traditions. One is a growing awareness of the damage humans are inflicting on the planet's biodiversity which is placing all life in jeopardy. According to a UN-backed study to be published in May, nature is in freefall and the planet's support systems are so stretched that we face widespread species extinctions and mass human migration unless urgent action is taken.
Tens of thousands of species are at high risk of extinction, countries are using nature at a rate that far exceeds its ability to renew itself. Nature's ability to contribute food and fresh water to a growing human population is being compromised in every region on Earth. In the face of this, shooting wild animals for pleasure, given the looming crisis, seems unthinkable.
The second integrative approach comes from studies in animal behaviour and neuroscience showing sentience – the ability to feel pleasure, sadness, distress and playfulness – can be demonstrated in a wide range of animals. They can no longer be considered mere things for human use but fellow feeling creatures in their own right deserving of our respect and protection.
"Animals are beings in the environment who have a conscious experience of the world," says Bilchitz. This "places strong ethical obligations upon human beings in their relations with them".
These conflicting views on the nature of our relationship with lions should (but appears highly unlikely to) be engaged with by the Panel of Experts when they consider what constitutes "acceptable management, breeding, hunting, trade and handling of elephant, lion, leopard and rhinoceros". And consequently whether or not to continue the practice of breeding lions for petting, canned hunting and sale of their bones for fake tiger-bone wine.
If they are not central to the discussions, delegates will continue to talk past each other and the outcome will depend merely on who's in the room. This is why the appointment of the panel needs to be carefully watched and, where necessary, challenged by anyone concerned with the fate of South Africa's lions.
As home to some of Earth's greatest prides, it seems right that we become an example of enlightened conservation and not captive to a colonial legacy we ought to have buried in 1994. With an increase in ethical tourism worldwide, South Africa can ill afford to be seen to promote canned lion hunting.
Don Pinnock is a writer for Conservation Action Trust.
"Education is the most powerful weapon which you can use to change the world." Nelson Mandela
The desire for equality must never exceed the demands of knowledge
---
Lisbeth

Global Moderator
Posts: 51586
Joined: Sat May 19, 2012 12:31 pm
Country: Switzerland
Location: Lugano
DEA bactracks on parliamentary resolution on captive lion breeding
BY LOUISE DE WAAL - 25 MARCH 2019 - IOL NEWS
Picture: Martin Meja/AP
A Parliamentary Resolution to end the Captive Breeding of Lions in South Africa has been ignored by the Department of Environmental Affairs (DEA), who proposed that the Captive Lion Breeding (CLB) industry should continue as long as it is properly regulated and appropriate legislation is introduced. This happened at a briefing meeting of the Portfolio Committee of Environmental Affairs (PCEA) on the implementation of the Committee's Report in respect of CLB held on 12th March.
This ignores the PCEA Report from a two-day Parliamentary Colloquium on CLB in August 2018, which included the Resolution specifying that "DEA should as a matter of urgency initiate a policy and legislative review of CLB for hunting and lion bone trade with a view of putting an end to this practice". This resolution was subsequently adopted by parliament making it a Parliamentary Resolution.
Merely proposing to regulate an industry that a Parliamentary Resolution required to be closed, is a shocking reversal by DEA. It also ignores the overwhelming condemnation of the industry during the August Colloquium, expressed by a wide range of local and international conservation and welfare experts, and forcefully endorsed in the PCEA report.
Philemon Mapulane (Chair PCEA) stated during the Colloquium that "South Africa is allowing a practice that everybody is turning their backs to, we need to find a solution as a country to improve the situation".
Currently, South Africa is holding between 9,000-12,000 lions in captivity, in approximately 300 facilities for a number of commercial purposes, including breeding, canned hunting and the lion bone trade.
The global movement to put an end to the CLB industry is intensifying with the USA, France, the Netherlands and Australia banning the importation of all captive bred lion trophies, 45 airlines placing embargoes on the transport of Big Five trophies, and major international hunting associations like Safari Club International no longer supporting the CLB industry.
Mark Jones (Head of Policy – Born Free Foundation UK), who was invited to present at the Colloquium, said "this hugely disappointing decision by DEA reflects just how deeply the South African government is in the pockets of those who exploit its wild animals for profit".
During the PCEA meeting earlier this month, DEA reported that of the 227 breeding facilities inspected in the Free State, Limpopo, North West and Eastern Cape, nearly 40% (88 facilities) were non-compliant with among others the Threatened or Protected Species (TOPS) Regulations.
Many facilities were also found to be operating with expired permits with the vast majority being reissued without penalties or providing reasons for renewal.
Blood Lions, a leading organisation that works to end the captive lion breeding, canned hunting and lion bone trade industries in South Africa, is deeply concerned by the outcome of the recent briefing. "DEA's recommendation to regulate an industry, which has been thriving for over 20 years already under so called 'governance', is proof of ineffective legislation and poor regulation".
The Committee appeared unconcerned that these activities are taking place without or with inadequate regulation and that DEA inspections are only TOPS compliance checks carried out in conjunction with provincial authorities.
With only four inspectors to cover the entire country, DEA admitted to be underresourced, while at the same time their inspectors are not tasked to undertake welfare inspections.
The NSPCA lodged a court application challenging DEA's "quota system" on the lion bone trade on the basis of among others, welfare concerns and the prevalence of poor standards and practices in CLB facilities.
DEA issued a media statement last week that created confusion over the state of this court case. Karen Trendler (Manager Wildlife Trade and Trafficking – NSPCA) however made it very clear that "the NSPCA has not dropped the court case against DEA".
Trendler confirmed that the NSPCA, as the sole organisation mandated to carry out welfare inspections, are "negotiating with DEA to make sure welfare issues in the CLB industry and welfare of all captive wild animal species are properly addressed and that their inspectors are granted access to all lion breeding facilities across the country". DEA has previously either been unable or unwilling to provide both the NSPCA and PCEA with a list of such facilities.
Minister Mokonyane stated in this press release that they are looking to complete "a variety of protocols on the captive-breeding, welfare norms and standards, governing the keeping of lions and associated trade practices", making it cristal clear that DEA has no intention of putting an end to this practice.
The Minister further states, they need to ensure that "…ultimately South Africa prevents non-compliance with globally acceptable standards and norms in the captive-breeding of lions…". Yet, there are no global norms and standards for CLB and worldwide there is unanimity that this abhorrent industry needs to be closed down.
Notwithstanding the consensus of the Committee Report towards ending this cruel and unethical industry, Mapulane defended DEA's decision on social media as positive by stating "on the contrary, the Minister has advertised the appointment of High Level Panel [HLP] to review this practice".
On 25 February 2019, the Minister indeed announced the formation of a HLP of experts "to review policy positions, regulatory measures and practices on aspects of conservation that are directly and indirectly related to hunting, trade, captive keeping, handling of iconic species of elephants, rhinoceros, lion and leopard".From this description and that on credentials of potential HLP candidates, "…must be persons …committed to and subscribe to the objectives and principles of conservation and sustainable use…", it seems that sustainable wildlife ultilisation remains a priority fixture on the agenda of DEA with very little chance of seeing the CLB industry reaching its sell by date.
Read original article:
https://www.iol.co.za/news/opinion/dea- ... g-20075212
"Education is the most powerful weapon which you can use to change the world." Nelson Mandela
The desire for equality must never exceed the demands of knowledge
---
Lisbeth

Global Moderator
Posts: 51586
Joined: Sat May 19, 2012 12:31 pm
Country: Switzerland
Location: Lugano
South Africa kicks the can down the road on captive predator breeding
BY ROSS HARVEY - 21 MARCH 2019 - THE CONVERSATION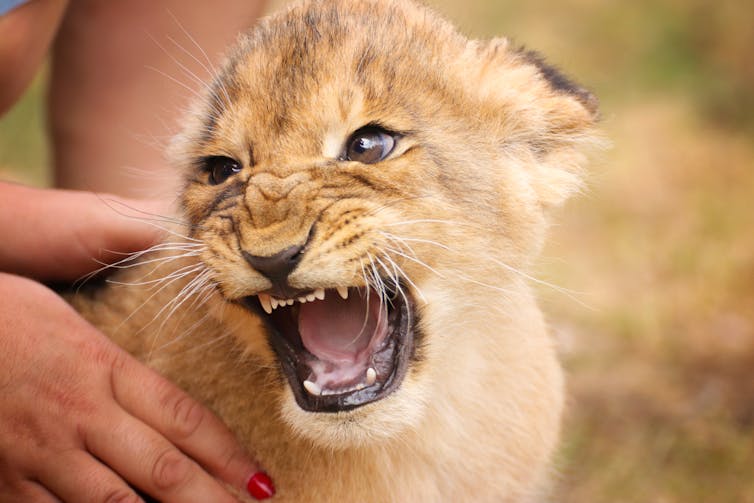 Once cubs in captivity get too big to be stroked and cuddled by tourists, they're sold into the canned hunting and Asian bone trade industries. Shutterstock
Ross Harvey, South African Institute of International Affairs
The world's leading lion scientists argue that captive predator breeding has no conservation value. Successful reintroduction from captivity into the wild among large felids is extremely rare.
Nonetheless, the captive predator breeding industry in South Africa operates on the pretext that reintroduction to the wild is a viable strategy, and that it contributes to broader conservation.
The industry's proponents also contend that it may serve as a buffer against wild lion poaching. The logic is that if captive-bred lions can supply the market for lion and tiger bones in East Asia, then wild lions will not be poached. South Africa's Scientific Authority – a body that advises the Minister of Environmental Affairs on conservation issues – made this speculative argument last year.
But speculation is insufficient grounds on which to continue the practice. Growing evidence shows that wild lions in other parts of Africa are being poached, driven by East Asian demand for their parts. So, while the Scientific Authority is correct that South Africa's wild lions are not imperiled by captive predator breeding, this does not mean that other lion populations are safe.
Despite these concerns, the latest development reveals a gaping hole in South Africa's governance of the industry. The Department of Environmental Affairs – in its first quarterly report to parliament this year – revealed that the industry is still thriving.
South Africa's parliament has unequivocally condemned the captive breeding of predators for human interaction, canned hunting and the East Asian lion bone trade. It saw it as a blight on South Africa's tourism and conservation reputation. A paper by the South African Institute of International Affairs estimates that the continued protection of the captive predator breeding industry may cost South Africa as much as R54 billion (about US$3.8 billion) in reputation damage over the next decade. South Africans themselves are overwhelmingly opposed to the practice and believe that it harms the country's brand.
But the government appears to have kicked the can down the road. It does not appear to have taken on board parliament's or South Africans' strong views.
Policy instructions from parliament
The parliamentary portfolio committee for Environmental Affairs hosted a two-day workshop in August 2018 entitled: 'Captive Lion Breeding for Hunting In South Africa: Harming or Promoting The Conservation Image of The Country'. The purpose was to review reports and presentations from conservation and hunting organisations on the topic.
The final report by the committee called for the Department of Environmental Affairs to urgently:
initiate a policy and legislative review of Captive Breeding of Lions for hunting and lion bone trade with a view to putting an end to this practice…

It further called for an audit of captive lion breeding facilities throughout the country:
to ascertain the conformity with the current threatened or protected species regulations and other applicable legislation in light of ongoing and increasing disquiet about the (captive lion breeding) industry.

A lucrative industry
The captive breeding industry is lucrative. Lion "encounter" operations buy or rent cubs from breeders. Some conduct questionable research on the cats. Unsuspecting tourists pet, feed, cuddle and walk with the big cats, mostly for the sake of a selfie. Some even pay for the privilege of volunteering at these facilities, falsely believing that they are contributing to conservation. The South African Institute of International Affairs paper estimates that the encounter element of the industry is worth roughly $180 million per year, the majority of which accrues to a handful of beneficiaries.
Once the cubs have exceeded their economic utility to encounter facilities, they are often sold into the canned hunting industry and thereafter into the Asian bone trade.
Given the recent controversy around canned hunting, some breeders sell directly into the bone trade, which has led to the creation of lion abattoirs. These abattoirs execute captive-bred lions for their skeletons. Under the Animal Protection Act of 1962, which prohibits the slaughter of wild animals, the Department of Agriculture, Forestry and Fisheries has the power to shut these down. It should do so.
The problem
The department's defence of the industry in terms of fulfilling its mandate to conserve biodiversity, enforce international agreements and protect whole ecosystems, appears flimsy.
In 2016 the International Union for the Conservation of Nature issued a motion that urged the South African government to:
terminate the practice of breeding lions in captivity for the purpose of canned shooting through a structured, time-bound process.

The motion also called for captive breeding to be limited to those facilities that were evidently conservation-orientated.
The Department of Environmental Affairs didn't mention this. But it has at least proposed an amendment to regulations covering threatened or protected species that would see issuing authorities – the Provincial Environmental Departments – refusing to grant a permit for breeding listed large predators unless they could demonstrate conservation value. What's unclear, though, is how such value will be identified or verified.
In respect of the audit it was instructed to carry out, the Department admitted that it still doesn't know exactly how many breeding facilities there are, or how many big cats are being held in captivity. It inspected a total of 227 facilities between 2015 and 2018, 88 of which (38%) were found to have violated existing regulations.
But the department has re-issued permits for most of these facilities. It did not provide reasons for doing so.
What next
The department is in the process of establishing a high-level panel to conduct a more comprehensive legislative and policy review of the industry, though its operating terms have not yet been established. Most of the committee members (except for the main opposition party, the Democratic Alliance) seemed satisfied with the department's feedback. This is difficult to understand given their vehement dislike of the industry and its negative impact on the country's reputation.
The bottom line is that, increasingly, ethical tourism is gaining ground. South Africa can ill afford to become a pariah again. It therefore has to move faster against industries that threaten its tourism and conservation brand value.
Ross Harvey, Senior Researcher in Natural Resource Governance (Africa), South African Institute of International Affairs
This article is republished from The Conversation under a Creative Commons license. Read the original article.
Read original article here:
https://theconversation.com/south-afric ... ing-113853
"Education is the most powerful weapon which you can use to change the world." Nelson Mandela
The desire for equality must never exceed the demands of knowledge
---