The Greater St Lucia Wetlands Park was declared South Africa's first Natural World Heritage Site on 1 December 1999. It is considered South Africa's third largest park and extends from Maphelana (Cape St. Lucia) in the South, to Kosi Bay in the North.
©safarinow.com
The Greater St Lucia Wetlands Park incorporates Lake St Lucia, the St Lucia and Maputaland Marine Reserves, the Coastal Forest Reserve and Kosi Bay Nature Reserve. The park has 280km of near-pristine coastline and comprises of 328 000 hectares of magnificent scenery. Greater St Lucia Wetlands Park encompasses an immense mosaic of habitats ranging from marine systems (coral reefs and beaches) and coastal forests (from salt and fresh water marshes to the open estuarine waters of Lake St Lucia itself) from lush coastal plains to the drier woodland areas.
Like many tidal estuaries, Greater St. Lucia has diverse wildlife reflecting the concentration of diverse ecosystems created by variations in the degree of salinity from season to season, year to year, and location to location within the park. The estuary is the largest in Africa and boasts the world's largest forested sand dunes, which reach up to 600 feet. Swamps along the border of the lake, and "sponge" areas are fed by water seeping through the dunes; these provide critical refuges to freshwater life when the lake salinity is particularly high.
Though less well known than larger southern African parks like Kruger National Park and the Okavango Delta, St. Lucia supports more species, and for some, St. Lucia is critical habitat. These species include the white-backed and pink-backed pelican, greater and lesser flamingos, fish eagles, and some 530 other bird species. It is also home to the largest population of hippopotamus in South African parks. Elephants were reintroduced in 2001. Two sea turtle species use the beaches for laying eggs. The coastal reserve includes not only beaches but offshore coral reefs, and humpback whales migrate along this section of the coast. It is the one park in Africa where you can find hippopotamus, crocodiles, and sharks all in the same area.
©birdforum.net
©lafikaleisure.com
On November 27, 2000, three living specimens of coelacanth were found and photographed in a submarine canyon off the coast near Sodwana Bay inside the UN World Heritage Site, adding this living fossil to the collection of species known to live in the St. Lucia Reserve.
Maphelana
Maphelana Nature Reserve is the southernmost reserve within the Greater St Lucia Wetlands Park. It is situated on the south bank of the Umfolozi River where it enters the sea, opposite the little village of St Lucia. The warm waters in the Maphelana Reserve are excellent for ski boating and surf fishing. Activities include spear and deep-sea fishing and there is also the self-guided Umphafa Trail. Nearly 200 bird species have been recorded in the reserve. Wildlife you can expect to see in the forest include small buck, monkey, mongoose and red squirrel and hippo and crocodileare prevelant at the estuary's edge.
©safari-guide.co.uk
Maphelana Camp has 40 campsites and ten five-sleeper log cabins, some with views of the Indian Ocean. Three cabins have been fully refurbished and are slightly more expensive. There is a small shop that sells ice and charcoal, but you'll have to bring in whatever food and water that you want. Campsites have no electricity.
St. Lucia Estuary
St Lucia Estuary is the gateway to the Eastern Shores of Lake St Lucia. The region contains the highest vegetated dunes in the world, extensive and diverse wetland systems, as well as coastal grasslands with an associated fauna which includes the Africa's highest density of common reedbuck. Numerous waterfowl, grassland, forest and sea birds provide an attraction to birdwatchers from around the world. Tourist amenities include fishing , the Santa Lucia boat tour, the St Lucia Crocodile Centre, and a short self-guided trail through the coastal forest along the edge of the estuary. Caution is necessary when surfing or swimming in the sea as there are no shark nets. Swimming in the lake is prohibited due the presence of crocodiles. Malaria precautions are necessary.
©accommodationstlucia.co.za
There are numerous lodges, hotels and self-catering accommodation in the town of St. Lucia, as well as two KZN Wildlife camping and caravanning grounds:
Sugarloaf Camp Site probably has the best position in St. Lucia. It is situated on the bank of the St. Lucia Estuary within walking distance of the estuary mouth and the beach. This makes for an ideal spot for any fisherman for both estuary and surf fishing. This is also an ideal area for keen birdwatchers and wildlife enthusiasts as the estuary habitat has many bird and animal species. The campsite consists of 92 large and shady sites all containing electric plug points. Four well maintained ablution facilities serve these sites and there is also a large swimming pool. The campsite has a 24 hour entrance gate control to ensure the safety of your belongings whilst you are out exploring the area.
©isimangaliso.com
Eden Park is a much smaller campsite situated within a little forest with the four kilometre Gwalagwala hiking trail meandering around the campsite. The trail derived its name from the Purple Crested Lourie which is found within this forest and is one of 63 bird species recorded here. This campsite has twenty shady sites equipped with electricity.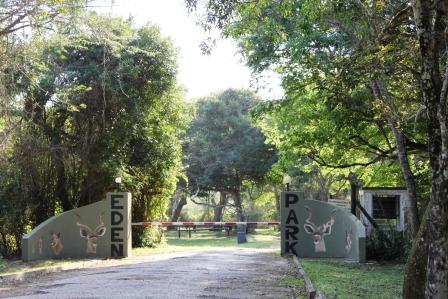 ©extremenaturetours.co.za
Cape Vidal
Cape Vidal is situated north-east of St Lucia. There is a designated launch site for skiboats, and deep-sea fishing and spear fishing are popular sports. It is sheltered and superb for snorkelling at low tide. Cape Vidal has the best of both worlds with access to the eastern shores of Lake St Lucia where there is a variety of game including reedbuck, other antelope, hippos, crocodiles and buffalo, spectacular water, forest and grassland birds and the wonderful Indian Ocean shore line with its startling array of marine animals.
©tiscali.nl
The marine habitat is the route used by humpback whales on their northerly migration to Mozambique to calve. Other "big game" include migratory marlin, sailfish and dolphins. In December the loggerheads and leatherback turtles come onto the beach to lay eggs. There is a relatively safe area for swimming, wildlife, especially birds, is abundant and self-guided trails enable visitors to see some of the surrounding wetlands and Lake Bhangazi.
Cape Vidal Resort has 18 five-bed and 11 eight-bed fully equipped log cabins. These have two and three bedrooms, a bathroom with shower, a fully equipped kitchenette and a dinette/lounge. For fishing parties, five multi-bed cabins (sleeping 8 - 20) may be hired on the shore of Lake Bhangazi. Cape Vidal also has 50 campsites in the dune forest near the beach accommodating both tents and caravans, with cold water taps and barbacue facilities. The three modern ablutions have hot and cold running water, flush toilets, showers, baths, basins and laundry and dish washing facilities.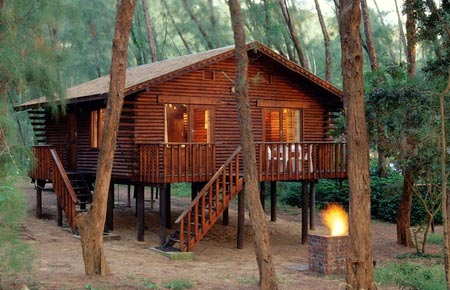 ©places.co.za
©preditor.ramsaymedia.co.za
Bhangazi Bush Lodge, 10 km from the hutted camp, sleeps eight guests in four self-contained, fully equipped units.
©krugerpark.com
Sodwana Bay
Renowned for its sport fishing, scuba diving and snorkeling, Sodwana Bay Resort lies north of Cape Vidal adjacent to Africa's southern-most coral reefs. In summer, loggerhead and leatherback turtles come out of the sea to nest on the beaches. Aside from Sodwana's wealth of opportunities for diving, boating and angling, a five kilometre self-guided walking trail for nature lovers and bird enthusiasts leads around the coastal forests and dunes and the area is rich in cultural history with evidence of ancient shell middens still found along the coastal dunes. Sodwana Bay Resort with its many exciting coral reefs and outstanding climate, has distinguished itself as one of the premier sport diving destinations in the world. There are many popular dive sites with a great diversity of underwater seascapes and marine flora and fauna including branching, table and plate corals, beautiful overhangs, drop-offs and mushroom rocks, as well as spectacular night dives.
©adventuredivingsafaris.co.za
©australiansforanimals.org
Sodwana Bay Resort features ten five-bed Swiss-style log cabins, which include two bedrooms, a bathroom with shower, lounge/dining room and kitchen together with barbecue facilities and ten eight-bed log cabins including three bedrooms, a bathroom with shower, lounge/dining room and kitchen all with barbecue facilities. The camp also provides extensive camping facilities.
©southafricatravelplan.co.uk
Kosi Bay
The Kosi Bay Nature Reserve is the northernmost reserve in the iSimangaliso Wetland Park. This system consists of four lakes and a series of inter connecting channels which eventually drain via a sandy estuary into the Indian ocean.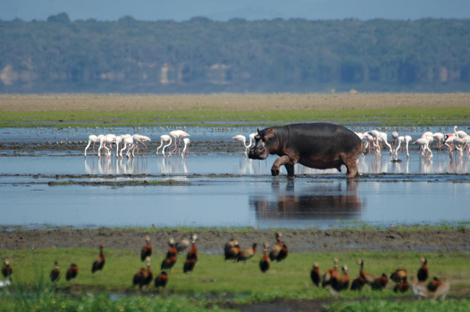 ©zululand.co.za
©isimangaliso.com
It is home to a large variety of birds and animals including hippos and crocs. Humpback whales can be seen off the beaches on their northerly migration to calve in Mozambique, and in December and January loggerhead and leatherback turtles come onto the beaches to lay their eggs in carefully prepared nests. Proclaimed in 1950 and extended in 1984, this is the most pristine lake system on the South African Coast.
Kosi Bay Camp is situated on the western shore of Lake Nhlange, the largest in the Kosi system. The camp features three rustic cottages. These include a six-bed cottage with three bedrooms, two en-suite bathrooms, lounge/dining room and kitchen with a large viewing deck with barbecue facilities. The five-bed cottage features two bedrooms, two bathrooms with showers, lounge/dining room and kitchen and the two-bed cottage has an open plan room with bathroom, kitchenette and lounge/dining area combined.
©safarinow.com
There are 15 campsites at the Kosi Bay Camp situated on the edge of Lake Nhlange.
©isimangaliso.com
To access the Kosi mouth and the Indian Ocean beaches is a 45 minute drive requiring a 4X4 vehicle. The drive is spectacular with views across the fish kraal dotted lake to the sea as you crest the huge coastal dunes. The last 7 kilometres of the Kosi Bay Camp entrance road is very sandy and requires a 4X4 vehicle or one with a difflock. As most of the 'roads' in the area are sand tracks, a 4X4 is required to fully access all the areas of the park.
For accommodation enquiries go to:
http://www.kznwildlife.com