Morning Highlights
As I said in my first installment after being back, the first days were characterized by special sightings either before 9 am or non at all. Well, we always got something before nine. Luckily.
The first morning on a drive from Kieliekrankie we found this at Batulama: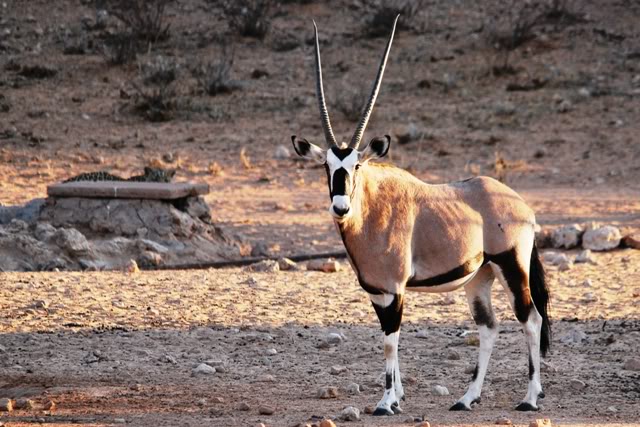 On the very same morning at 13th Borehole we had a close encounter with a tortoise coming to drink at the waterhole. If you think I'm silly calling this one of my morning highlights you might be right, but so far I haven't seen many of those critters and definitely not facing me at this close distance.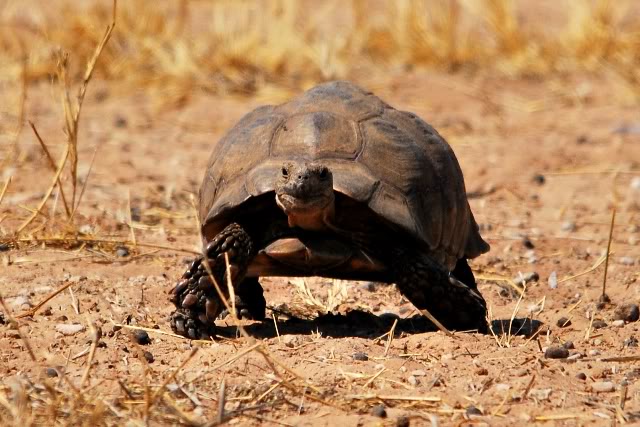 Some nice fellow had told us about a cape fox den 16.9 km north from the junction at Auchterlonie. We didn't even have to travel that far because on our second morning we got these just 6.5 km north from the same junction.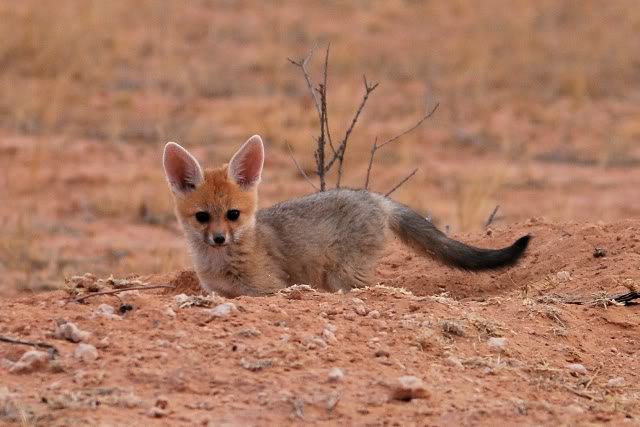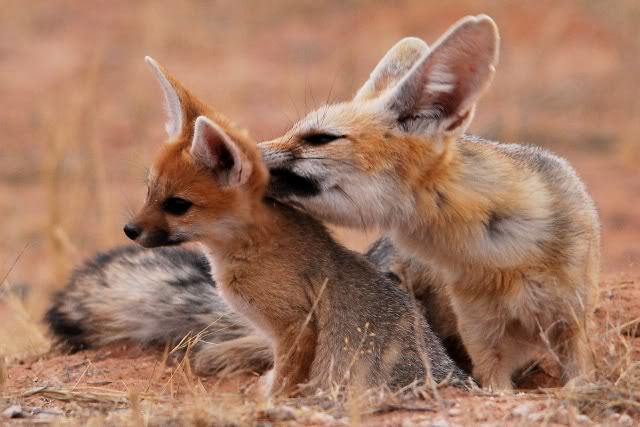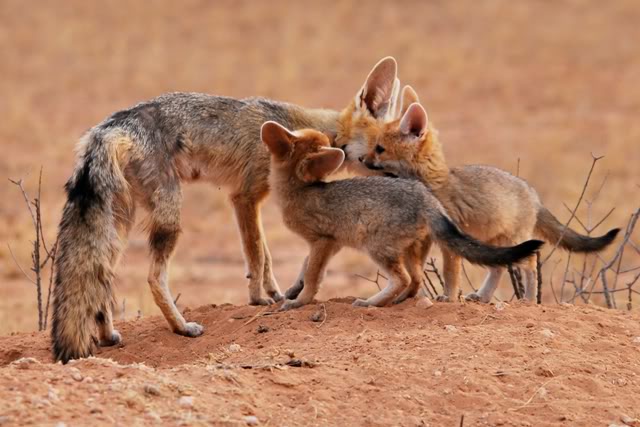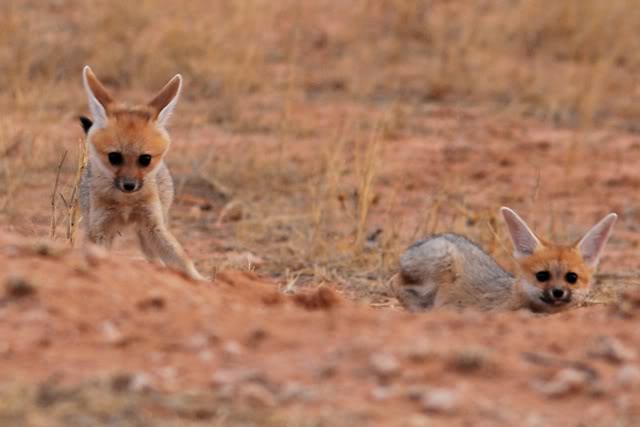 There were 3 pups around but I never managed to get them in one frame… I did however manage a lot of cape blurs because they just wouldn't sit still. Awww, what a treat to watch them. I had never seen cape foxes in KTP before, so this was a real treat and we enjoyed it tremendously!
On our way from KK to Nossob we stopped close to Gunong and checked the area for any sign of Dyrbil. Well, nothing was moving really, so we just sat there for a bit longer and looked around and enjoyed the surroundings. All of a sudden Spots ask what it was that he was seeing through his binocs far off in the dunes behind Nossob riverbed. I grabbed my pair of binocs, looked to the indicated direction and saw… a honey badger!!! :mrgreen: First one ever, and first one ever being very much alive!!! Nevertheless, I would have wanted to bring back something better than this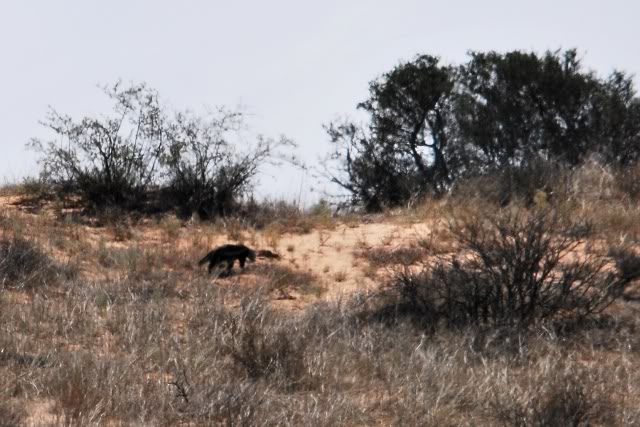 When we had arrived at Nossob and started planning our drives, we decided to stick to only one route for all drives – down south. This was for several reasons: Firstly, we would be staying at Grootkolk after Nossob and therefore had enough opportunities to explore the stretch between these two camps if desired. Secondly, I firmly believe in doing the same route again several times in a row, because I think that it heightens your chances with what you get to see.
So, just after the waterhole on the Marie se Gat loop, 4 kudus crossed the road right in front of us and the morning light hadn't been switched off yet. I just adore this sighting and shot: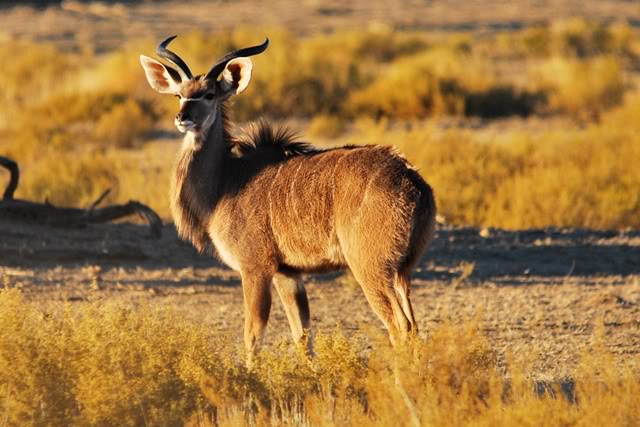 However, kudus in KTP are rather skittish and they moved off towards the dunes rather quickly, so we left them to it and went on.
Before Kaspersdraai we found very fresh lion tracks in the road. Hoping to catch the critter at the waterhole, we pressed on only to find the waterhole completely deserted. For a while we just sat there waiting for something to happened, but it did not. A bit antsy because of having been in the park for 4 days by then without having seen a single lion, we turned around to have a look at the tracks again and see if we could make out where exactly they vanished into the dunes. To cut a long story short: We found the lion's 'entrance' towards the riverbed. We never found the lion though. Right, back to Kaspersdraai then and just sit there and enjoy the view. Something WILL come up. And it had… we were just a minute late to avoid this picture :roll: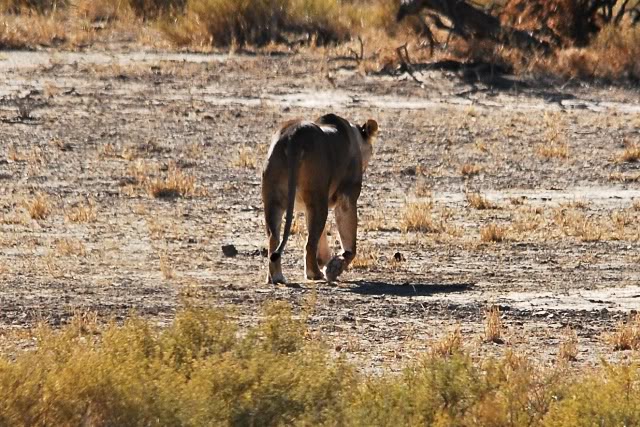 Oh well, at least we had seen a lion… We watched her walking into the dunes and disappearing before we got back on our way towards Nossob again.
The next day we left for Grootkolk and on our way we got some bat-eared fox foraging. A bit far off, but better than nothing.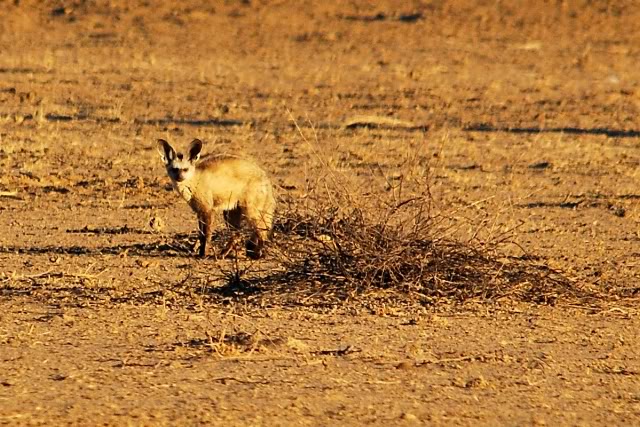 The cape cobra came on the second day of our Grootkolk stay, but contrary to most of the other stuff above, it was not the only highlight of the day and certainly not only the morning. But more about that later...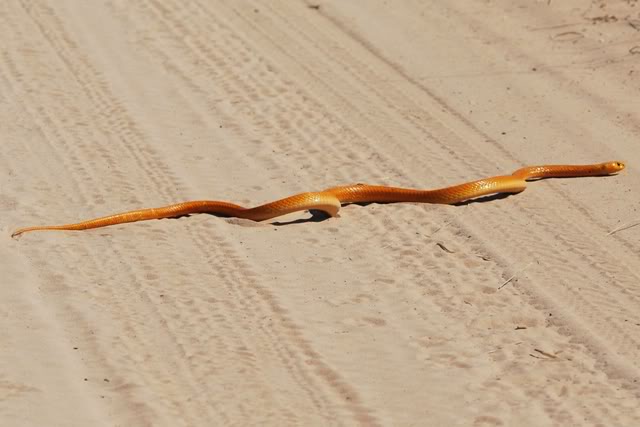 The same goes for this hyena that visited us in the wee morning hours at Urikaruus. It was about 5.40 am and a dull and overcast day. So forgive me the quality of the pics, it merely serves as a photographic proof.