Mapungubwe National Park is situated in the Limpopo Province at the concourse of the Limpopo and Shashe rivers, and constitutes a part of the proposed Limpopo-Shahe Trasnfrontier Conservation Area (an area spanning over 28 000 hectares).
Mapungubwe means 'place of the stone of wisdom', and the cultural landscape of Mapungubwe Park was once the home of a large civilization – the most complex ancient society in southern Africa. Now a UNESCO World Heritage Site, it contains the untouched remains of the palace sites of this kingdom, the largest ancient civilization. The Golden rhino uncovered here still stands and has come to be a symbol of Africa's continuing cultural heritage.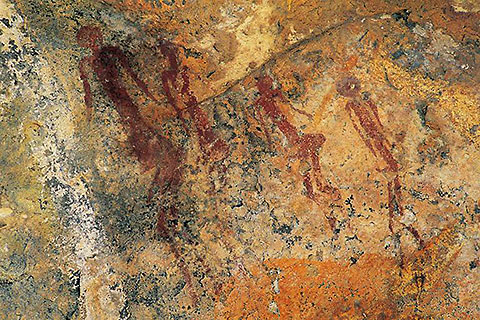 ©peaceparks.org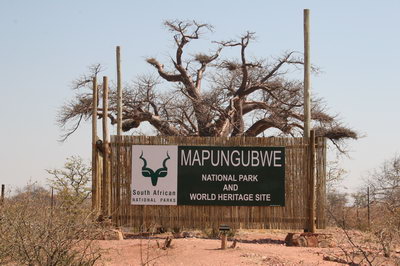 ©mweb.co.za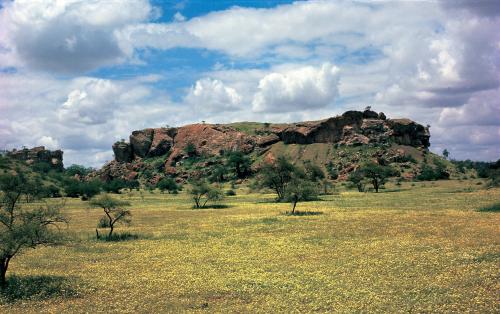 ©sanparks.org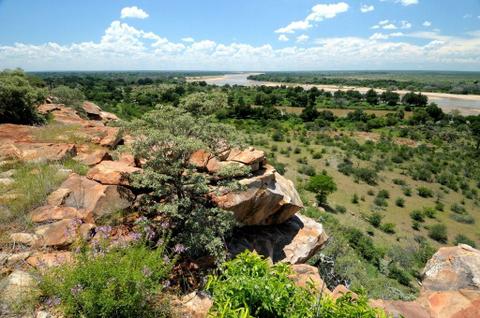 ©withtank.com
Nestled between three of the most scenic countries in Africa – South Africa, Botswana and Zimbabwe - Mapungubwe is a landscape of contrasts. Sandstone rock formations form the backdrop to dramatic baobab and Mopane forests that unfold along floodplains where wild animals roam freely. Acacia, fig and fever trees form part of the dense vegetation of Limpopo's important riparian fringe, which provides a habitat for more than 400 species of birds, including the Cinnamon-breasted Bunting, Meve's Starling and the Tropical Boubou. Pel's Fishing Owls and a high number of Verreaux's Eagles hunt amongst many other raptors.
Animals are free to cross the boundaries of the Limpopo / Shashe Transfrontier Park, which joins the Tuli Block in Botswana and the Tuli Safari area in Zimbabwe. Wildlife includes a variety of antelope, giraffe, zebra and elephant. Visitors taking 4x4 tours in the Kongoni Loop or visiting the Maloutswa Pan hide may be rewarded with sightings of lions, cheetahs, wild dogs, Brown and Spotted Hyenas and White Rhinos.
©wordpress.com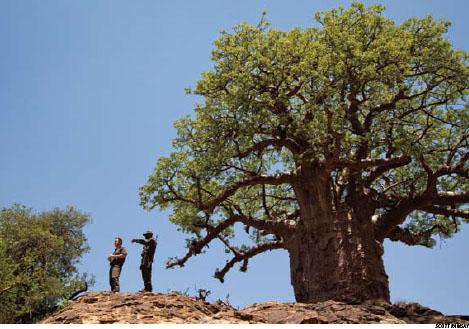 ©showme.co.za
Leokwe Camp
is in the valley of the Limpopo river and is modeled on the Vendan Village design and is the ideal, self catering getaway. There are 2-bed cottages and 4-bed family cottages, all with WC and shower and open-plan kitchens. No restaurant, shop, filling station or phones.
Limpopo Forest Tented Camp
is situated near to the Maloutswa Pan hide, a haven for birding enthusiasts. Accommodation consists of 2-bed tents with WC, shower and kitchen. No restaurant, shop, filling station or phones.
Mazhou Campsite
offers electrified campsites.
Tshugulu Lodge
is situated along the popular 4 x 4 eco trail. Because of the high traffic of wild animals (notably the Big Five) in the area, most lodge activities are guided. Accommodation is in the form of a bush lodge which can sleep up to 12 people in 3 en-suite rooms each with double beds, 3 en-suite rooms each with 2 single beds, fully equipped kitchen and aircon. There is a swimming pool.
Vhembe Wilderness Camp
offers four 2-bed cabins with WC, shower and fan, a communal kitchen and lapa. The camp runs on solar power and there are no plug points.
Accommodation rates do not include Conservation Fees which are payable at the entrance gates.
For reservation enquiries go to:
http://www.sanparks.org/