Ndumo Game Reserve is situated near the Tembe Elephant Park on the Mozambique border in northern Kwazulu-Natal. The Usuthu River forms its northern boundary and the Pongola River flows through to its confluence with Usuthu. Ndumo boasts many beautiful pans set about with yellow fever trees and extensive wetlands and reed beds as well as acacia savannah and sand forest.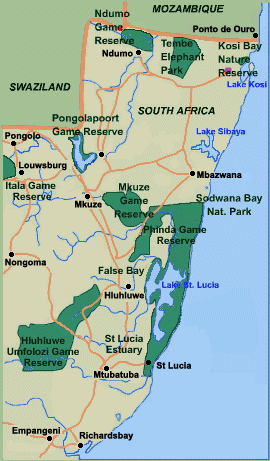 ©places.co.za
Ndumo Game Reserve is perhaps best known for its magnificent bird life with the highest bird count in South Africa, some 430 species. The varied habitat hosts an astonishing range of aquatic birdlife such as black egret, pygmy geese and flocks of pelicans. The prolific birdlife includes many tropical East African forms at the southern limit of their range. Special ticks for birders include Pell's fishing owl, the broadbill, and southern banded snake eagle.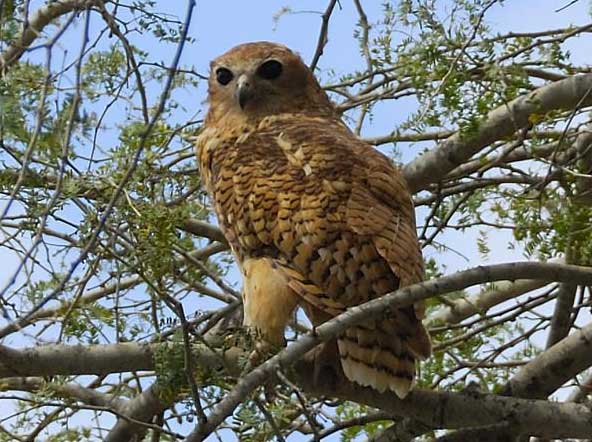 ©ahoy.tk-jk.net
With game species such as nyala, bushbuck, impala, red duiker, suni, black and white rhino, hippopotamus and a very large population of crocodiles, Ndumo is a most rewarding area to view wildlife with its wetlands and pans, thick bush and savannah and extensive forests. Ndumo is of particular interest to entomologists with a very interesting array of insects including 66 recorded species of mosquito. Visitors may drive through certain areas of the reserve in their own cars, or participate in landrover tours to interesting areas in the company of a tour guide. Depending on the demand, morning and afternoon tours are conducted and arrangements to participate in these tours are made at the reception office.
©safarinow.com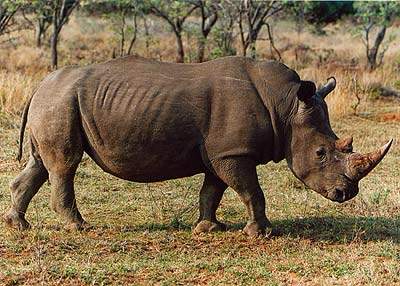 ©game-reserve.com
For the more energetic, day walks in the reserve may be taken in the company of a guide and, here too, arrangements to participate in these walks should be made at the reception office the day before the intended walk.
Ndumo Camp
consists of 7 two-bed rondavels, each equipped with a hand basin with cold water, a table and three chairs and a refrigerator. Bedding, cutlery and crockery are provided. These seven units have been upgraded and now have a verandah and an airconditioning unit inside. The camp is served by a kitchen and ablution block with hot and cold water. The camp is equipped with mains electricity and has a swimming pool. There is a shop that sells firewood and charcoal together with basic provisions.
©ridingforhorses.co.za
Ndumo Campsite
accommodates a maximum of 48 people in eight shady campsites. The campsite caters for both caravans and tents and is situated in a beautiful setting under the trees near the main hutted camp. Campsites have cold water taps and barbecue facilities. The modern ablutions have hot and cold running water, flush toilets, showers, baths and basins. A communal kitchen and dining area is also available.
©landloversafaris.co.za
For accommodation enquiries go to:
http://www.kznwildlife.com